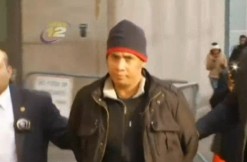 A Bronx cab driver stole his buddy's Powerball ticket worth $50,000, according to police. Guys, this isn't how you play the lotto.
Victor Castillo, 66, won a sweet retirement fund earlier this month, when he earned part of the big ol' $1.5 billion Powerball drawing. But he says his friend, 44-year-old Rubelin Segura stole his winning ticket. I guess friendship isn't worth more than $50K.
It didn't lead to a long, suspenseful investigation. The NYPD says they just checked Segura out, and found the ticket in his possession. They arrested him Tuesday morning, just days after the historic drawing.
Segura and Castillo, both drivers, had tried to make a party of the lottery, meeting up with other cabbies at a diner to check their tickets. After Castillo reportedly matched three numbers and won the $50K, Segura brought that ticket to a bodega, and allegedly tried to cash it. After that, he allegedly tried to pass another ticket off as Castillo's real one. This one was reportedly worth only $4.
Surveillance video from the bodega apparently vindicates Castillo, who is shown buying the winning ticket in the first place, according to The Daily News. Plus, he says he has the receipt.
Segura supports three kids, and had two apartments, with rents behind on one, according to The Daily News. Now he faces larceny and forgery charges, and was arraigned Tuesday.
As for Castillo, he hasn't cashed the ticket yet because he hasn't gotten it back.
This Powerball drawing was the first North American at over a billion dollars, triggering a whole lot of media coverage.
[h/t NBC New York, image via screengrab]
–
>> Follow Alberto Luperon on Twitter (@Alberto Luperon)
Have a tip we should know? [email protected]me.com