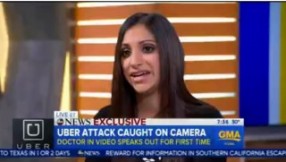 The Miami doctor—who was put on administrative leave after a video of her attacking a Uber driver surfaced—is now saying that this was at the lowest moment of her life, and that she is "ashamed" about what happened. She's also very relieved that the Uber driver won't be pressing charges.
The YouTube video shows Anjali Ramkissoon kicking and screaming at a Uber driver in a parking lot in downtown Miami over the weekend. Ramkissoon got hostile after the Uber driver refused to pick her up. The driver can be heard asking bystanders to call the police.
"I see a person that is not me, I'm ashamed. I still can't watch the entire video," Ramkissoon told Good Morning America's George Stephanopoulus.
Here is a clip from her interview this morning:
Ramkissoon said what transpired that night was a culmination of one of the worst days of her life. She said her father had just been admitted to the hospital, and that she broke up with her boyfriend of 2 years. Ramkissoon admitted she'd been drinking. "There absolutely no excuse for my actions. I'm ashamed and I apologized, he accepted my apology," she said.
Here is the original YouTube Clip from this incident:

Ramkissoon is a fourth-year neurology resident within the Jackson Health System, where she has been placed on administrative leave. The Uber driver has decided not to press assault charges. Ramkissoon says she is very thankful for that.
Have a tip we should know? [email protected]
Rachel Stockman - President / On Air Host