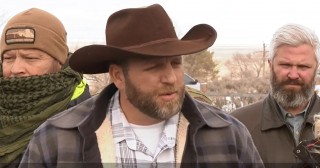 The leader of the armed occupation at Malheur National Wildlife Refuge — Ammon Bundy — has been arrested along with five of his followers after a fatal confrontation with the FBI. As of Tuesday night, the road near where it happened was shutdown, and a hospital was on lockdown.
Investigators say it began with a traffic stop while the group was on their way to a scheduled meeting between the activists and the community.
A confrontation between troopers, the FBI, and the militia group ensued, and shots were fired, according local media reports. At this time, it is unclear who fired the first shot. OPB  is reporting one person is dead. Ammon Bundy was arrested along with  Ryan Bundy, Brian Cavalier, Shawna Cox and Ryan W. Payne, according to local television station KATU.
This comes in the midst of a 25 day occupation of the federal wildlife preserve.
A livestream from local reporter Pete Santilli — who calls himself an 'alternative' journalist'—  is happening now:

The occupation began earlier this year after two ranchers were sent to prison for setting fires on the federal land.
[CNN and Oregon Public Broadcasting ]
Have a tip we should know? [email protected]
Rachel Stockman - President / On Air Host