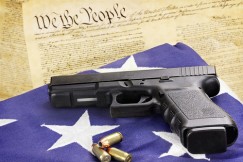 A controversial new city law in Massachusetts has brought an onslaught of unexpected attention to Lowell, a city of 110,000, that lies 35 miles north of Boston.
The new law, which takes effect this week, requires applicants for unrestricted handgun licenses to articulate why they should receive a license in writing. Critics of the law call the writing requirement an "essay," and further claim they have to pay $1,100 in gun-related training. Jim Wallace, executive director of Gun Owners Action League of Massachusetts, a non-profit, member-funded advocacy group, remarked, "It is absurd that people should have to write an essay to the town to explain why they should be able to exercise their constitutional rights."
Lowell Police Captain Timothy Crowley believes the "essay" characterization is a misnomer. "If you want a license to carry a firearm unrestricted wherever you want and whenever you want, the superintendent is just looking for some documentation as to why," Crowley said. "That is not unreasonable to most people."
Massachusetts State law grants local chiefs of police broad discretion in their implementation of the State's gun-related guidelines and requirements. The tougher licensing regulations will require a city gun safety course on top of the state course. The debated requirement, advocated for by Police Superintendent William Taylor and pushed by the Lowell City Council, gives Taylor sole, unilateral discretion to approve or deny resident applications.
A recent federal lawsuit brought by Commonwealth Second Amendment, a gun-rights group, alleged that Lowell has a history of denying qualified applicants permits to carry handguns without cause. The new policy seeks to ameliorate such concerns. The policy may remediate concerns or, conversely, exacerbate resident anger. Only time will tell.
As of 2013, the Commonwealth had the sixth strictest gun laws in the country and a B+ rating from the Brady Campaign, a gun violence prevention organization that evaluates and compares the gun laws of all fifty states
Uproar aside, the new laws were adopted unanimously by the City of Lowell.
[h/t Fox News]
Have a tip we should know? [email protected]