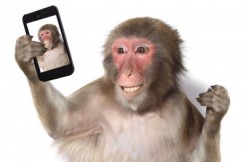 Can a monkey have a copyright? Yes, according to People for the Ethical Treatment of Animals. The organization sued in 2015 on behalf of a macaques in Indonesia named Naruto. The monkey had picked up wildlife photographer David Slater's camera, and took several selfies. PETA claims the copyright for the pics should actually belong to her, not the human.
Take at look at the most publicized selfie below:
Congrats to Cecil, Tilikum, Naruto (selfie monkey) @Time's 100 Most Influential Animals 2016 https://t.co/WkkMYL08M2 pic.twitter.com/bRsHCjDjrX

— Nina Wu (@ecotraveler) April 22, 2016
Though a federal judge dismissed the lawsuit in January, PETA is appealing the decision in the Ninth Circuit. They say the Copyright Act of 1790 gives them the room to apply ownership rights to animals.
From the filing, obtained by The Hollywood Reporter:
Because copyright protection exists primarily to advance society's interest in increasing creative output, it follows that the protection under the Copyright Act does not depend on the humanity of the author, but on the originality of the work itself.
[Featured post image via LilKar and Shutterstock]
–
Follow Alberto Luperon on Twitter (@Alberto Luperon)
Have a tip we should know? [email protected]