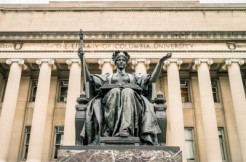 On Friday, a three-judge panel ruled that a male Columbia University student can sue the school over a purportedly biased sexual assault investigation. "John Doe," filing with a pseudonym, was accused of committing a sexual assault, but he said he didn't get a fair hearing, which resulted in his suspension.
From Judge Pierre Leval, writing for the U.S. Court of Appeals for the Second Circuit:
[Doe's complaint] alleges that Columbia's hearing panel (which erroneously imposed discipline on the Plaintiff), its Dean (who rejected his appeal), and its Title IX investigator (who influenced the panel and the Dean by her report and recommendation), were all motivated in those actions by pro-female, anti-male bias. Those alleged biased attitudes were, at least in part, adopted to refute criticisms circulating in the student body and in the public press that Columbia was turning a blind eye to female students' charges of sexual assaults by male students.
Doe originally sued in 2014. A U.S. District Court Judge dismissed that lawsuit, but Friday's ruling vacates the decision. The appellate judges said they ruled for Doe because they thought his claims were plausible, but they balked at deciding the "accuracy of what Plaintiff has alleged." That's why they remanded it to the lower court for review.
We recognize that the facts may appear in a very different light once Defendant Columbia has had the opportunity to contest the Plaintiff's allegations and present its own version.
We reached out to Columbia, but they declined to comment because the litigation is ongoing.
The university has been a focal point for the national debate over colleges and the (mis)handling of on-campus sexual assault investigations. In 2014, Emma Sulkowicz publicly claimed another student raped her. She said the school dragged its feet in addressing her allegation, and in protest, she started carrying a mattress around campus. The other student, Paul Nungesser, sued Columbia under Title IX for allegedly letting Sulkowicz defame him.
–
Follow Alberto Luperon on Twitter (@Alberto Luperon)
Have a tip we should know? [email protected]