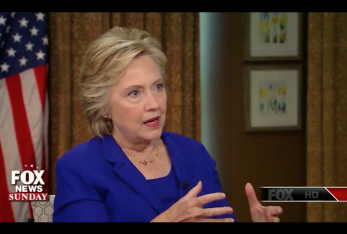 Democratic Presidential Nominee Hillary Clinton in an interview on Sunday appeared to break with the Obama administration on the issue of the nomination of Merrick Garland to the Supreme Court.
In her first television interview since winning the Democratic nomination, Clinton discussed the current Supreme Court vacancy with host Chris Wallace on Fox News Sunday.  The issue came up during a discussion about whether the president has the power to issue "executive actions" on immigration.
WATCH:
In the interview, Clinton discussed the Supreme Court's recent 4-4 split on the challenges to Obama's immigration executive actions.  Wallace interrupted to remind Clinton that if she is elected president, it would enable her to nominate a Supreme Court justice who could cast the deciding vote.  Clinton did not disagree with the assertion, if the case worked its way back to the Supreme Court again.
"Well, but first let's go and have the trial," Clinton said.  She then acknowledged "[t]hat is true that I hope that I will have that chance, because it's not just [immigration], it's Citizens United, a lot of things that I think the current court got wrong, respectfully, for our democracy."
"So you would like to see all those things change with your Supreme Court justice?" Wallace asked.
"Well, whoever the next president is will get to nominate at least one, maybe more Supreme Court justices," Clinton reaffirmed.
At the very least, Clinton's remarks reflect an acknowledgment that President Obama's current nominee, Merrick Garland, will not be confirmed by the Senate.
This appears to represent a major split with the Obama administration.  In fact, the confirmation of Judge Garland was the focal point of yesterday's White House weekly radio address.  Vice President Joe Biden and retired federal judge Timothy Lewis called on Senate Republicans to hold confirmation hearings, going so far as to suggest the refusal to hold a hearing violated the Constitution's rule of Advice and Consent.
Have a tip we should know? [email protected]