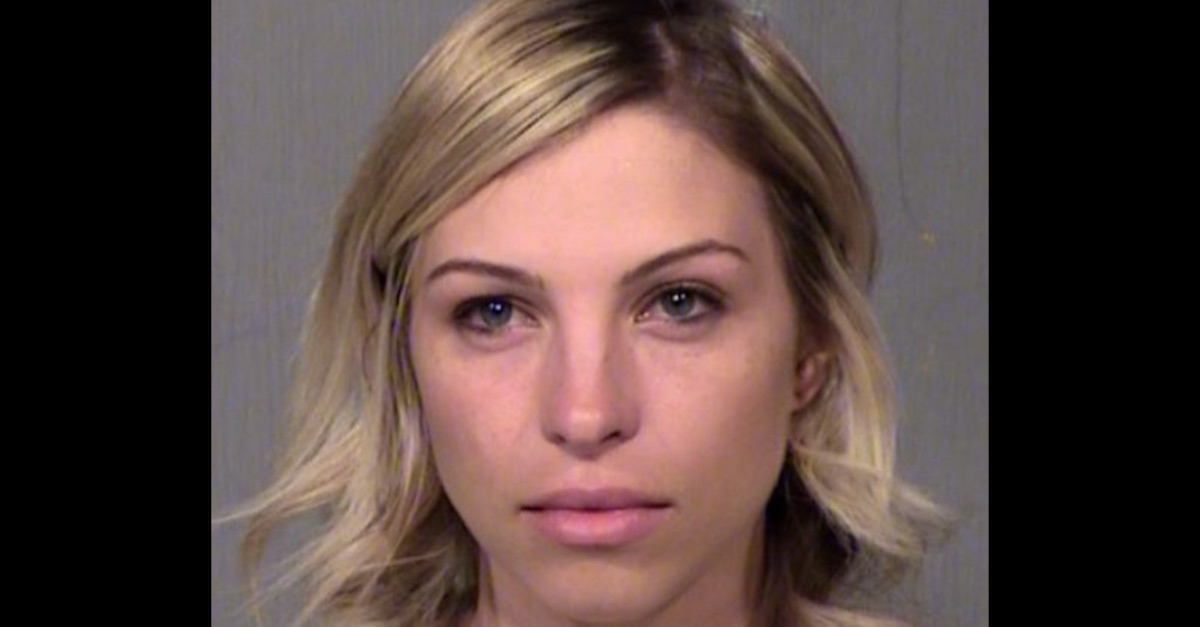 The father and stepmother of a 13-year-old boy allegedly abused sexually by a married Arizona woman who had been teaching at his school for less than a year gave their first public response to the story, calling her a "monster" who deserves life in prison.
The parents, in an interview with KPHO, said that the illicit relationship between 27-year-old Brittany Zamora and their son began with flirting in a classroom group chat and escalated to sex.
"He told us they kissed and had sex," the father said. "A big thing for us is that we want people to understand, just because it's a boy makes no difference. It's the same. It's a 13-year-old child who got taken advantage by a monster."
"You teach your kids there's no such thing as monsters at all. But in the real world, there are monsters. Brittany Zamora is a monster," he added. "I want her to spend the rest of her life in prison."
Parents of 13yo sexual abuse victim speaking at their attorneys office. Didn't want their identity known. Says #brittanyzamora is a monster and should be in jail for rest of her life. @mikewatkiss3tv will have the details on @azfamily pic.twitter.com/5PxBVjznzZ

— James Apalategui (@PhxPhotogJames) March 29, 2018
He also called on the school to change rules so this never happens again. They are accusing the school of ignoring warning signs and a cover-up.
The boy's stepmother echoed her husband's thoughts, saying Zamora used her stepson "for her own grotesque benefits."
She also said that she noticed changes in his emotions and habits after the sex encounters that allegedly took place in both the classroom and Zamora's car.
"He's started to express different emotions. He's sad, and slept all day," she said. "It's starting to hit him, the reality of what actually happened."
Zamora hadn't even worked as a sixth-grade teacher at Las Brisas Academy Elementary School for a year before facing two counts of child molestation, one count of furnishing harmful material, and nine counts of sexual conduct with a minor after disturbing sexual texts, nude photos, and eyewitness accounts of illicit sexual activity emerged.
MORE: Text message transcript police provided in court documents between teacher 27 YO Brittany Zamora, and 13 YO student in her class. pic.twitter.com/rIqWbh2Rjf

— Stefania Okoliè (@StefaniaFOX10) March 23, 2018
The alleged sexual incidents began on February 1.
Zamora was accused of having sex with the student three times and performing oral sex in both the classroom and her car. When her husband became aware of the allegations, he tried to convince the teen's parents not to call the cops, The Republic reported.
The school principal first reported Zamora to the police on Wednesday, March 21. The student's parents reportedly discovered sexual texts on their son's phone and took screenshots. They claim that they were then "harassed" by Zamora's husband during a phone call.
They said the husband said Zamora "made a big mistake, but that she loved the kids" and tried to settle the situation without going to authorities.
The parents declined.
27-year-old teacher Brittany Zamora arrested for alleged sexual misconduct with a 13-year-old male student at Las Brisas Academy in Goodyear. #azfamily pic.twitter.com/3V0caBLiFN

— Lindsey Reiser (@LindseyReiser) March 23, 2018
Zamora said during her first court appearance that she'd "love to go home to [her] husband."
Another line included in court documents read, "If I could quit my job and [expletive] you all day I would."
Zamora, whose bond was set at $250,000, remains jailed.
[Image via Maricopa County Sheriff's Office]
Have a tip we should know? [email protected]