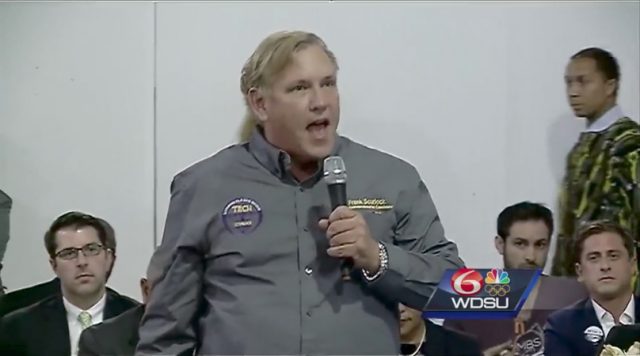 A candidate for mayor of New Orleans is facing misdemeanor lewd conduct charges after he was accused of masturbating during an Uber ride while in California earlier this year.
While en route to a hotel in West Hollywood on February 10, Frank Scurlock's Uber female uber driver noticed odd sounds coming from the backseat.
Eventually, she pulled the car over and opened the back door. Sitting in the backseat, she claims, Scurlock had his pants down around his ankles with his shirt pulled up and his erect penis in one hand.
The Uber driver then demanded Scurlock leave her vehicle. He complied. Then she went into a gas station to call the police. As she did so, Scurlock went on his way. Later that evening, Scurlock got a visit from the Santa Monica Police Department at his West Hollywood hotel and the Uber driver picked him out of a photo lineup, according to Santa Monica Chief Deputy City Attorney Terry White.
Because Scurlock traveled through multiple jurisdictions within Los Angeles County during his allegedly masturbatory trip, formal charges were not filed against him until August 31.
When initially questioned about the incident by The New Orleans Advocate, Scurlock said, "I have no idea what I'm being charged with. What you just told me is more than I know." In later comments he said the charges were "without merit," and that he would be "vindicated" in court.
In an interview with New Orleans' local NBC affiliate, Scurlock said he went out drinking on the night in question and remembers falling asleep in the car and then being asked to leave, which he did.
The accusations against the mayoral candidate are a perhaps an unfortunate bit of kismet. Frank Scurlock's campaign aims to "Make New Orleans Fun Again," and aside from the political theatrics–and his purple top hat–he's previously garnered media attention for pledges to "Uberize" the New Orleans Police Department.
If convicted, Scurlock will have to register as a sex offender in California.
[image via screengrab]
Follow Colin Kalmbacher on Twitter: @colinkalmbacher
Have a tip we should know? [email protected]