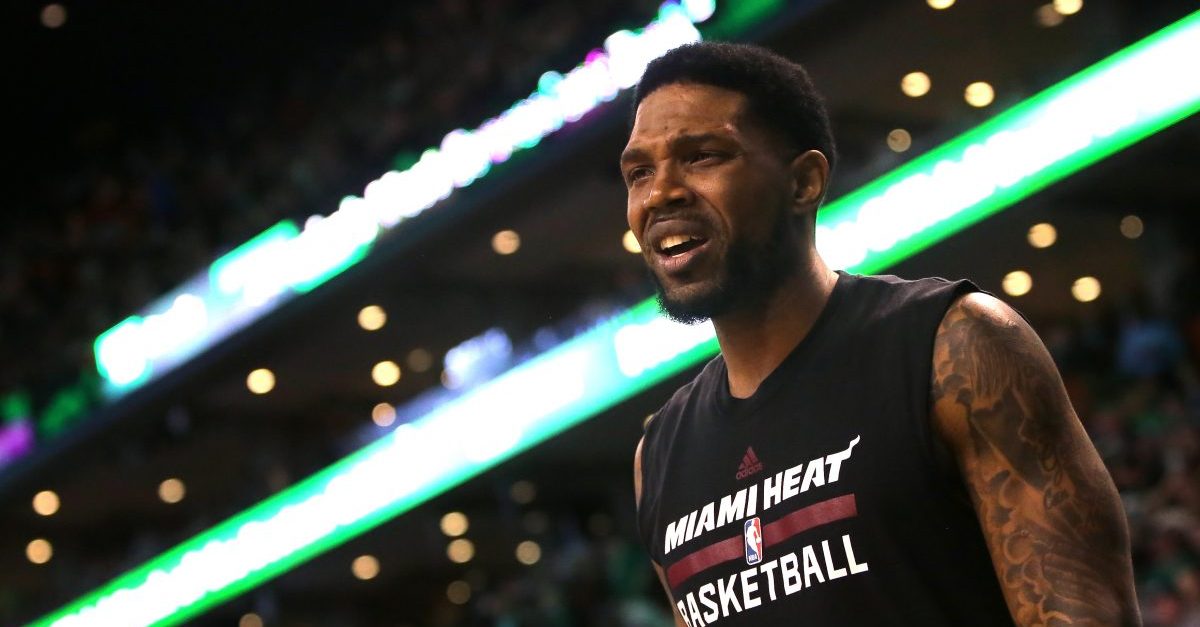 The Miami Heat's Udonis Haslem is suing a veterinarian after he brought his dog Juice in for a procedure, and got more than he asked for. Juice, meanwhile, walked away with far less. According to a complaint filed in Broward County Circuit Court, Haslem brought Juice to the LeadER Animal Specialty Hospital in Cooper City, Florida because the dog swallowed a rope. While Dr. Marcus Uris successfully removed it, the complaint says, he also neutered Juice.
"Juice was not to be castrated," the complaint states.
Haslem, who won NBA championships with the Heat in 2006, 2012, and 2013, claims that Dr. Uris breached his duty of care to Juice by performing the operation without consent or any medical necessity.
Juice, a Cane Corso,  is "top, show dog quality," Haslem claims, and as a result, is highly valuable for breeding purposes. The lawsuit states that Haslem was planning onbreeding juice and selling his puppies, and also studding him out to other breeders, who would pay thousands of dollars. Haslem claims that semen from a Cane Corso typically sells for $2,500 per sample, and that samples can be taken every other day, or even daily from show dogs. Puppies also sell for $2,500, the complaint says, with Cane Corsos typically having 8 to 12 puppies in a litter. Dogs from champion bloodlines demand even higher prices.
As a result of the neutering, Haslem claims he is missing out on hundreds of thousands of dollars in potential income.
On top of that, Haslem says that Juice was acting as a guard dog for his family, as he is often away for NBA games. Haslem spent $30,000 to have Juice trained, and claims that since being neutered, Juice is too tame to be as effective.
Haslem is seeking damages covering Juice's market value, plus lost profits that he could have received from sales of puppies or semen.
Law&Crime reached out to LeadER Animal Specialty Hospital for comment, but they did not respond. PETA, meanwhile, chimed in with a statement calling for Haslem to drop the lawsuit.
"Udonis Haslem should be thanking his veterinarian for neutering his dog, not suing him for it," PETA said. "Today, there's no excuse for breeding dogs when millions of them are filling animal shelters nationwide and literally dying for a good home."
Haslem v Uris Complaint by Law&Crime on Scribd
[Image via Mike Lawrie/Getty Images]
Have a tip we should know? [email protected]