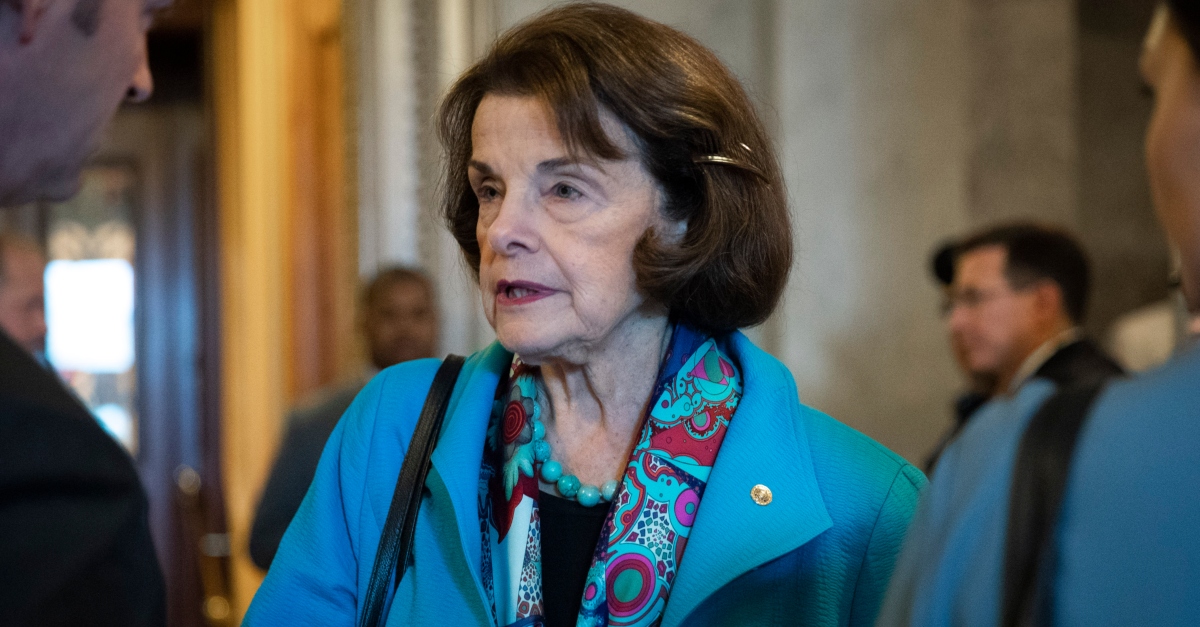 A man attempted to threaten Sen. Dianne Feinstein (D-California), according to a Los Angeles District Attorney's Office statement obtained by Law&Crime. Craig Steven Shaver, 47, is charged with attempted criminal threats and possession of a firearm by a felon. If convicted, he could spend up to the three years behind bars.
Shaver allegedly emailed a threat to Feinstein back on September 30. Authorities also claim he had a revolver when he shouldn't have because he has a felony conviction for grand theft from 1991, they said. Los Angeles County records obtained by Law&Crime show he was arrested Tuesday, and is scheduled for an arraignment and plea hearing to take place Friday. He mains in jail in lieu of $50,000 bail. No attorney of record is named.
This investigation is ongoing, and in the hands of the local sheriff's department. Prosecutors didn't share anything about what Shaver allegedly wrote and why.
Incidentally, September 30 was in the middle of the tense confirmation battle of Supreme Court Justice Brett Kavanaugh, who was sworn in on Saturday. The judge faced multiple several sexual misconduct allegations, but he had his share of supporters. A Florida man was recently accused of threatening Democratic senators who opposed the nomination. The politicians' families were threatened as well, according to the Polk County Sheriff's Office.
This is James Patrick Jr. & here are some of his FB posts threatening to kill politicians & cops. He's in jail now being held on $500k bond. Here's the news release https://t.co/ya6n9lQX8e pic.twitter.com/5cdqRioRJU

— Polk County Sheriff (@PolkCoSheriff) October 4, 2018
"I can tell it seems I will be sacrificing my life for my country," James Royal Patrick allegedly wrote. "But I am ready and will know who needs to be killed after the vote to put Kavanaugh on the Supreme Court."
[Image via Drew Angerer/Getty Images]
Have a tip we should know? [email protected]