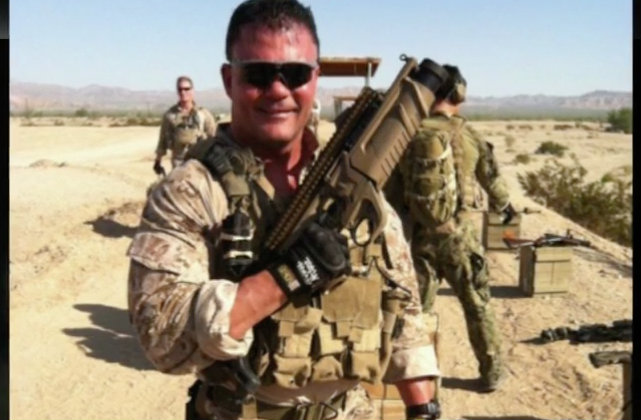 A longtime Navy SEAL is in trouble after he allegedly spent years in the porn industry. Now, Navy Chief Special Warfare Officer Joseph John Schmidt III is being investigated by Naval Special Warfare Command, and this may lead to any number of punishments, according to a San Diego Union Tribune report.
"We have initiated a formal investigation into these allegations," said Capt. Jason Salata, a SEALs spokesman. "There are very clear regulations which govern outside employment by [Naval Special Warfare] personnel as well as prohibitions on behavior that is discrediting to the service."
Schmidt allegedly did not file required paperwork to get permission to do porn. He is accused of working under the name Jay Voom, doing at least 29 films in the last seven years.
Any given branch of the U.S. military enforces pretty strict rules on how members moonlight. People have gotten in trouble posing in Playboy (or Playgirl); using sensitive information to help design video games; or writing a first-person account of how Osama Bin-Laden died. Punishments vary, but can include demotion, repayment of moonlight wages, and lowered pension benefits. It could be a bad end for Schmidt, who has served in the military for 23 years and was on the way to retirement.
He declined to comment when The San Diego Union Tribune reached out. His wife, best known publicly as Jewels Jade, had a lot to say, though. She's a porn star. Has been, on-and-off, since 2001. She said her husband's colleagues all knew about his side-job.
"They knew about it at work," she said. "He got called in and they said, 'Look, keep it on the low, don't mention the SEAL name and blah, blah, blah. He was always pretty open about it with the command. I mean, honestly, all of his buddies knew about it. Everybody knew about it."
She claims her husband never tried to use his military service to enhance his porn career. It wouldn't have really been possible anyway, she said, because most famous male actors established themselves when they were young. The ones still working after many years "are still kind of filming grandpa porn."
She said her recent porn and stripping career was motivated by debt. She and her husband started a real-estate company in 2005, but that endeavor ended up in bankruptcy. Federal records obtained by the outlet show that Schmidt's Navy pay at the time was below $60,000 a year.
Jade said the investigation is "ironic" and "hypocritical." She mentioned having fans in the military–soldiers in Iraq once sent her a picture of an armored vehicle with her misspelled name on it–and she was once, as the article put it, "summoned" to SEAL headquarters to sign autographs as a Penthouse Pet. She said strippers gave buzzcuts to recruits. And then there's matter of when her husband was a rookie SEAL: His superiors apparently made him lug around the unit's porn stash when they were deployed.
[Image via LinkedIn and KGTV]
Have a tip we should know? [email protected]