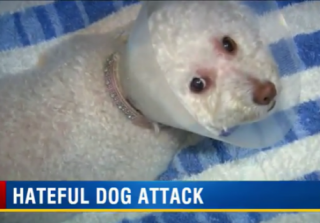 A naked 72-year-old man allegedly let his five dogs loose, allowing them to attack a smaller dog that was walking near the man's home. According to WFLA, Jackie Hammock of Lake Wells, Florida, was standing nude in the doorway of his home on Monday, when Azard Baksh was walking his tiny pet Bichon Frise named Myra. When Myra stopped to relieve herself in the grass, Hammock reportedly let his five dogs go, with two of them attacked Myra.
"The big mother dog came and grabbed Myra, shook her like a teddy bear," Baksh told WFLA. Baksh said that while the dogs went after Myra, Hammock yelled at him, saying " 'Don't walk in this street, you Muslim terrorist. Stay out of here." Baksh, who served in the U.S. Air Force, said Hammock had previously called him a Muslim terrorist while threatening to have the dogs attack him.
Police said that Hammock went back inside after releasing the dogs, and his wife then called them back in. Hammock then let them out again, and they went back to attacking Myra before Hammock's wife got them back inside, only for him to send them out a third time.
When police asked Hammock if he released his dogs to attack Baksh, he reportedly replied, "Oh yes sir, absolutely. I hate that terrorist pr–ck." According to Baksh, tension between him and Hammock began after he told Hammock to keep his pets under control.
Myra suffered puncture wounds and was taken to an emergency clinic, but Baksh told WFLA on Wednesday that the dog had died.
Hammock is facing charges of cruelty to animals, aggravated assault, and exposure of sexual organs.
[Screengrab via WFLA]
Have a tip we should know? [email protected]