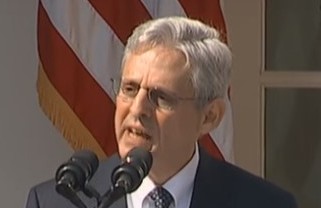 House Democrats plan to introduce a bill designed to kick-start Merrick Garland's confirmation hearing for the U.S. Supreme Court.
"We already have one dysfunctional branch of government right now, and I'm not going to sit idly by and watch the Senate try to create a second dysfunctional branch by hobbling the Supreme Court," Rep. Elizabeth Esty (D-Conn.) told The Washington Post in a Wednesday report. She's the bill's main author. "My hope this bill [sic] will help raise not just public awareness, but really cause my colleagues in the Senate to think about our sworn duty to uphold the Constitution."
The bill is called "Senate's Court Obligations Trump Unconstitutional Stalling," or SCOTUS. It'd make Congress stay in session through summer recess if the Senate doesn't hold hearings on Merrick Garland's Supreme Court nomination by July 19, according to a statement from Esty.
The Republican National Convention will run July 18 – 21, while the Democrats hold their convention July 25 – 28. Both the House and Senate are scheduled to hold recess starting mid-July (shortly before the conventions), going to early September.
It's unlikely for the SCOTUS bill will get passed.  The struggle over Garland's confirmation is split down party lines. Not good for the Democrats since Republicans control congress, with 54 in the Senate, and 247 in the House. Even though some Republican Senators like Chuck Grassley and Mark Kirk have offered to meet with Garland, the party has slowed down confirmation attempts for federal judges in general.
"Judge Garland, he's been duly nominated by the elected president of the United States to fill a vacancy which we know exists on the court," Kirk said, according to Politico. "We need open-minded, rational, responsible people to keep an open mind to make sure the process works. When you just say you're not going to meet them and all that, it's too close-minded."
Also bear in mind that four of the six U.S. Representatives who plan to introduce the bill are also running for the Senate: Rep. Tammy Duckworth (Illinois), Rep. Ann Kirkpatrick (Arizona), Rep. Patrick Murphy (Florida), and Rep. Chris Van Hollen (Maryland).
The U.S. Supreme Court continues to have a vacancy after the death of Justice Antonin Scalia in February.
[screengrab of Garland via PBS / Youtube]
–
Follow Alberto Luperon on Twitter (@Alberto Luperon)
Have a tip we should know? [email protected]