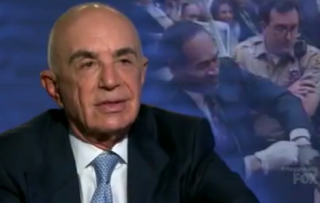 While watching Tuesday night's Megyn Kelly Special with Robert Shapiro, I was struck by how carefully the former O.J. Simpson attorney picked his words. During his first interview about the trial in more than 20 years, Shapiro had the opportunity to stand behind Simpson's innocence. That didn't happen. What did emerge was a Robert Shapiro who was convinced that he had helped win 'legal justice' for Simpson. But he left it at just that — legal justice.
The most revealing moment came when Fox Host Megyn Kelly asked Shapiro what he thought was the biggest takeaway from the case. He answered:
There is moral justice and there is legal justice. And when that not guilty verdict was rendered, I felt legal justice was done. As far as moral justice, I haven't discussed it with anyone including my wife.
Clearly, legal justice is very different from moral justice, and Mr. Shapiro knows this. He chose his words for a reason.
Watch:
Shapiro also offered up a theory about the 1994 murder of Nicole Brown Simpson and Ron Goldman. "The prosecution wedded themselves to one knife, one killer theory. I think it was pretty clear that it was within reasonable medical probability that more than one knife was used. There is a strong possibility that more than one person was involved," he said.
As for what O.J. Simpson whispered in his ear during that famous news clip?  "You had told me this would be the result from the beginning, you were right," Shapiro recounted.
There were two points in the interview which revealed that Simpson and Shapiro clearly had a very strained relationship — if any at all now.
Firstly, Shapiro said he was taken back when O.J. Simpson appeared in media footage laughing and posing for pictures following the verdict.
"I thought it was inappropriate … two people were dead, there should be some respect, certainly for your ex-wife," Shapiro said.
Another telling moment came when Kelly asked Shapiro if Simpson had called him when he got in trouble for armed robbery in 2007. Shapiro was quick to say he never received a call.
"I wouldn't have taken the case in any event … he still owed me money from the first one," Shapiro said. You could sense the tension in the relationship.
Since the trial, Shapiro has gone on to have a very successful legal career including founding legalzoom.com. He's talked very little about the case that threw him into the national spotlight. On Tuesday night, once again, Shapiro left us with many, many more unanswered questions. One key question which would have provided more clarity: Does he believe O.J. Simpson is innocent? Kelly didn't ask it, at least not in the clips that made it into the primetime special. I sure wish she had.
Have a tip we should know? [email protected]
Rachel Stockman - President / On Air Host