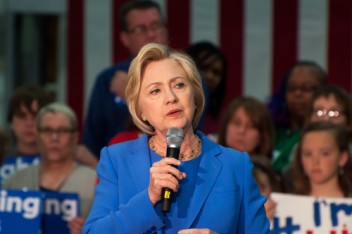 Depositions are set to begin this week and will continue well into the summer as part of a civil lawsuit concerning Hillary Clinton's use of private e-mail server while serving as Secretary of State.  Lewis Lukens, a former deputy assistant secretary of state, will be the first former Clinton aide to testify under oath when he appears for his deposition on Wednesday.
The deposition schedule was released late Tuesday by the conservative legal watchdog group Judicial Watch.  Earlier this year, U.S. District Court Judge Emmet G. Sullivan entered an order that allows  Judicial Watch to conduct discovery into whether the State Department and then Secretary of State Clinton deliberately thwarted Freedom of Information Act (FOIA) disclosure laws.  The specific focus of the lawsuit is to obtain records about the employment status of Huma Abedin, former Deputy Chief of Staff to Clinton.
In addition to Lukens, at least five other top Clinton aides are expected to be questioned under oath by Judicial Watch attorneys in depositions over the next several weeks.
Clinton's former Chief of Staff Cheryl Mills and Stephen D. Mull, executive secretary of the State Department from June 2009 to October 2012 are scheduled to be deposed next two weeks.
The man who is widely believed to have set up Clinton's private e-mail, Bryan Pagliano, is scheduled to give testimony during the first week of June.  Pagliano is the only Clinton aide publicly known to have received immunity from the Department of Justice in exchange for his cooperation in the FBI/DOJ investigation into the potential mishandling of classified materials.  Last week, State Department officials announced they could not locate a single one of Pagliano's e-mails from his time at the State Department. Several FOIA attorneys told LawNewz.com that revelation was highly suspicious.
Huma Abedin and State Department Undersecretary for Management Patrick F. Kennedy are scheduled to testify during the last week of June, according to the deposition schedule filed in the lawsuit.
"This court-order testimony could finally reveal new truths about how Hillary Clinton and the Obama State Department subverted the Freedom of the Information Act," Judicial Watch President Tom Fitton said in a statement released on Tuesday.
Clinton herself is not currently scheduled to testify in this lawsuit, but Judicial Watch can still ask Judge Sullivan to allow them to depose her at a later date.
Judicial Watch, however, is expected to request to question Clinton in a separate FOIA lawsuit pending before U.S. District Judge Royce Lamberth. In March, Judge Lamberth granted discovery after finding there was evidence of bad faith on behalf of the State Department in the manner in which they responded to FOIA requests.  Judge Lamberth stated he wait to set a deposition schedule in that case until after one was set in the case before Judge Sullivan.
"Judicial Watch continues to clog the courts with its partisan lawsuits intended only to hurt Hillary Clinton's presidential campaign," Clinton campaign spokesman Brian Fallon said in a statement to Politico.
[image via shutterstock]
Have a tip we should know? [email protected]