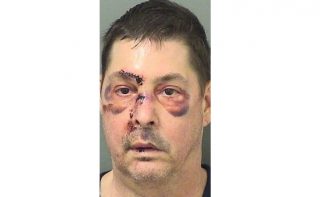 In a case that could only happen in Florida, Kurt Allen Jenkins was arrested after allegedly driving naked and exposing himself to a pedestrian while he was driving through a Boynton Beach neighborhood, The Palm Beach Post reported. The kicker? He had electric wires attached to his penis.
An individual walking down the street told authorities that Jenkins pulled over in his Toyota and pointed towards his genitals. The person, who soon called the police, said that they saw wires coming out of his groin, opened the passenger door, and took a picture to show the cops.
Jenkins then slowly drove through an area where a school bus was dropping off children. Police eventually pulled him over and Jenkins got out of the car wearing only shorts, but allegedly refused to obey orders. Jenkins was apprehended and arrested on the ground, and then spent three days in a hospital, according to court documents. It's unclear exactly what he was using the electric wiring for.
He's charged (no pun intended) with indecent exposure, lewd behavior in front of children, and resisting an officer.
[Image via Palm Beach County Sheriff's Office]
Have a tip we should know? [email protected]