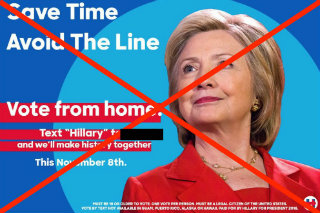 On Wednesday, a worrisome trend started to pick up on Twitter in the form of accounts tweeting alleged Hillary Clinton campaign ads, designed to look like her real tweets, telling people that they can avoid waiting in line because they can vote by text message. The story picked up steam with this tweet, which also protested Twitter's refusal to remove the offending posts.
For the record: No, there is no way to vote via the internet, text message, email, telephone, call, fax, or any other remote way other than traditional absentee ballots sent via the United States Postal Service. Clinton's Twitter account has been heavily pushing supporters to "make a plan" to vote, stressing the ability to utilized absentee ballots and early voting. While Twitter has yet to comment on the situation, the company did eventually delete the tweets after the story got more widespread attention.
While a number of reports about the fake ads have taken the position that they're "wrong, but not illegal," election law expert Stephen J. Kaufman told LawNewz otherwise. "I would argue that these twitter ads could be illegal under state statutes that prohibit fraudulent attempts to prevent someone from voting at the polls," he explained. "By fraudulently inducing voters into casting their ballots by text message or thinking they can cast their ballots by text on election day, the perpetrators may be prohibiting voters from voting at the polls or by mail."
As far as which specific jurisdictions have laws that would cover this type of voter suppression, Kaufman added that "many states, including California, have provisions in their elections code which make fraudulent conduct in the voting process criminal." While he doesn't believe that "this type of electronic conduct" has been tested under the existing fraud laws, Kaufman does feel that "an argument could be made that the fraud statutes should apply in these circumstances."
Kaufman did give a caveat, saying that "bringing criminal charges after the fact may not prevent someone from perpetrating a fraud during the election." Plus, if Twitter and other service providers are going to take down the fake ads (though in this case, they didn't at first), getting an injunction against the fraudsters may be an uphill climb "unless one can establish that someone actually has been deprived of their right to vote."
In addition, at least in part because one of the tweets was in Spanish, there has been widespread speculation that the fake ads were designed to target minority voters. These new fakes come a week after similarly fraudulent "vote online" ads started appearing. Kaufman remarked that "it is no small irony that the people who are crying the loudest in this election about voter fraud are the very people who are actively engaged in the only known voter fraud."
Curiously, according to New York Magazine, if you do text the number listed in the fake ad, it's transparent about not being what the ad said it was. The number automatically replies that "the ad you saw was not approved by iVisionMobile OR Hillary for America in any way" and explains how to get genuine text message updates from the campaign. If you follow up with a "STOP" message to unsubscribe, you're then told that you have  "opted out of False HFA Ad on Twitter."
LawNewz reached out the iVision Mobile to determine what actually happened, but have not heard back as of yet. The U.S. Short Code directory does indeed list the code in question as belonging to iVision Mobile. Given the nature of the message bot's replies, it seems likely that the responses were crafted after they saw the fake ads so as to lessen the damage.
Have a tip we should know? [email protected]