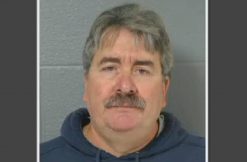 Police say Vermont House candidate Patrick Liebrecht, 57, admitted to them that he posted nude pictures of an ex-girlfriend on her friends' and family's Facebook pages because she allegedly owed him money and was "seeing a Mexican."
According to the affidavit obtained by WCAX, he reportedly told investigators that the woman wasn't actually nude, and that he could just "go onto National Geographic and see that stuff." The woman had reportedly consented to the images, but allegedly told him that no one else could see. Liebrecht spoke with the outlet in a Wednesday interview, but declined to comment except to say that he has pleaded not guilty.
The Vermont GOP distanced themselves from Liebrecht, a Republican. They told the news station:
These allegations are deeply disturbing and disgusting. Such actions do not reflect the values of the Vermont Republican Party. In fact, Republican and Democrat lawmakers supported legislation making it a criminal offense to engage in this type of abusive behavior. There is no room in the Vermont Republican Party for anyone who engages in this type of conduct. Furthermore, it's unacceptable for any person to use their candidacy or support of a political party as a means to intimidate, bully, threaten or harass anyone
The Colchester Police Department told LawNewz.com that Liebrecht faces one count of disclosure of sexually explicit images without consent. That's a technically a misdemeanor charge, but Vermont defines things a little differently from most other states, and the potential sentence is actually up to two years behind bars, not just one. There's also the matter of a possible $2,000 fine.
Liebrecht faces arraignment on October 4, and now, as a police spokesman put it, "The case is currently proceeding through the court system."
[mugshot via Colchester Police Department and WCAX]
Update – 9:18 a.m., November 4: We've contacted local police, and added information about the specific charge pressed again Liebrecht, and the status of the case in the court system.
–
Follow Alberto on Twitter (@Alberto Luperon)
Have a tip we should know? [email protected]