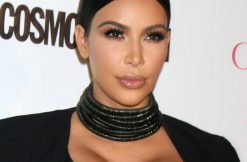 It's hasn't been publicly confirmed, but a source told Entertainment Tonight that Kim Kardashian and husband Kanye West let her bodyguard go after an October 3 robbery in Paris, France.
"Pascal, along with a couple other security members of their team, were recently let go by Kim and Kanye," the source told ET. "It's a pretty tough situation overall and they love Pascal, but they couldn't take any more chances."
Kardashian was robbed in her apartment at gunpoint during a highly publicized incident. Duvier, who has worked for Kardashian since 2013, and West since 2012, was reportedly not there when it happened.
Apparently, there are no hard feelings against him. The family is just reorganizing their security because of the robbery, which reportedly left Kardashian truly shaken up.
"Pascal was with [Kim's sisters] Kourtney and Kendall at L'Arc Nightclub," a source told US Magazine in another Thursday report. "Kim felt safe at the apartment by herself. Kim is not blaming Pascal. She felt completely safe at the Paris apartment and doesn't believe this is his fault in any way."
Whatever the case, the optics haven't been good for Duvier who is CEO and Chairman for the company Protect Security. Duvier blasted Piers Morgan after he wrote an October 3 article calling for Kardashian to fire the bodyguard.
"Thank you very much for your delightful, amusing, fictional, desperate attention seeking article in #DailyMailOnline," Duvier wrote on his Instagram account.
Duvier has not replied to ET's request for comment.
–
Follow Alberto on Twitter (@Alberto Luperon)
Have a tip we should know? [email protected]