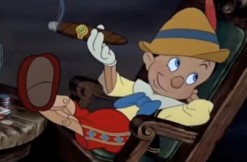 On Friday, movie studios, the rating board, and prominent theater owners asked a federal judge in California to dismiss a class-action lawsuit that'd make all films with smoking R rated unless tobacco is shown as dangerous. That complaint, filed in February, sought an injunction, claiming children are more likely to smoke after watching any offending films.
Defendants are the Motional Picture Association of America (the MPAA, those people who establish the content ratings), the National Association of Theatre Owners (NATO), Disney, Sony, Warner Brothers, Universal, Twentieth Century Fox, and Paramount.
In court filings obtained by The Hollywood Reporter, they skewered the lawsuit, calling it "a misguided attempt to upend basic tort principles and core First Amendment protections to force the Classification and Rating Administration ('CARA')—the movie ratings body that the MPAA and NATO jointly operate—to change the opinions it expresses through its movie ratings system."
In a February complaint obtained by THR, plaintiffs (led by a man named Timothy Forsyth) said that from 2003 through 2015, "youth-rated" movies with tobacco-imagery caused 4.6 million adolescents to start smoking. On Friday, defendants said the link between children smoking and movie ratings is "too attenuated and speculative to support damages."
"If Plaintiff's claims were permitted to proceed, there would be no end to claims invoking CARA's purported duty to disregard its own opinions and instead to implement a given advocacy group's preferred social policy in assigning ratings," the defendants stated in their Friday filing.
Could you imagine Disney classics like Pinocchio being R rated?
[screengrab via Disney]
–
Follow Alberto Luperon on Twitter (@Alberto Luperon)
Have a tip we should know? [email protected]