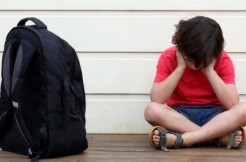 A new ordnance in Shawano, Wisconsin establishes fines for parents who can't keep their kids from picking on others. Police will now aide the Shawano School District in handling alleged bullies.
This is how it works, as reported by Fox 19. After a kid gets into trouble, cops tell parents and guardians about it, and give them 90 days to correct the child's behavior. If the kid acts up again, the parent faces a $366 fine. If another offense happens within the year, the parent faces a second fine of $681.
Mother Kyle Jones told Fox 19 her 16-year-old autistic son has been bullied since middle school, and she welcomes the ordnance.
"He shouldn't have to even deal with it," she said. "I don't think he should have to come to me every day and say, 'Help, it happened again.' And he doesn't even act like it's something that shouldn't be happening, and it's not right. And no kid, no kid should go through that."
Cincinnati News, FOX19-WXIX TV
Shawano Police Chief Mark Kohl told NBC 26 that the new ordnance will enable authorities to tell parents who don't know their kids are being bullies. Scott Zwirschitz, the principal of Shawano Community High School told Fox 19 he'd meet with cops to work out the logistics of enforcing the ordnance.
[image via MPIX / Shutterstock.com]
–
Follow Alberto Luperon on Twitter (@Alberto Luperon)
Have a tip we should know? [email protected]