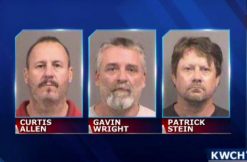 Three Kansas men: Curtis Allen (age 49), Gavin Wright (49), and Patrick Eugene Stein (47). The Department of Justice says the trio planned to bomb a Garden City apartment complex where a lot of Somali Muslim immigrants lived and prayed (yes, there's a mosque there, too). The men were each charged in court on Friday with one count each of conspiring to use a weapon of mass destruction (explosives). That means they face a possible life sentence.
These bombs weren't atomic or anything, but fueled by oil and ammonium nitrate, the feds say. The alleged plot was that these guys would plant explosives in four different vehicles, and park those vehicles at four corners of the complex.
This is the result of a months-long investigation, as the feds looked at the three men, and a local militia group called "the Crusaders."
This is a militia group whose members support and espouse sovereign citizen, anti-government, anti-Muslim, and anti-immigrant extremist beliefs.
So if they planned this, why do it? According to the DoJ, the defendants wanted to "wake people up." Not that you need this spelled out, but there was definite anti-Muslim, anti-immigrant bigotry behind the alleged plot.
"According to the complaint, these three defendants conspired to conduct a bombing attack against an apartment complex occupied by men, women and children in the Garden City, Kansas community," said Assistant Attorney General for National Security John P. Carlin. "Protecting our nation from such attacks, whether they are rooted in domestic or international terrorism, is our highest priority."
We're working to contact Allen, Wright, and Stein about their defense, and will update when we hear back.
[mugshots via US Government and KWCH]
Update – October 15, 12:40 p.m.: Added a statement from Assistant Attorney General Carlin.
–
Follow Alberto on Twitter (@Alberto Luperon)
Have a tip we should know? [email protected]