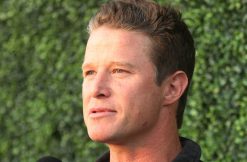 It's early yet, but Today Show host Billy Bush might soon gain a multi-million dollar exit settlement with NBC because of the fallout from the "Trump Tapes." Or maybe not that soon. On Friday, Page Six announced that sources claimed Bush and NBC are working out a $10 million deal. Absolutely not, said Bush's lawyer Marshall Grossman in response.
"There are news reports that a $10M settlement has been reached between Billy Bush and NBC," he told CNNMoney on Saturday. He called the Page Six story "false," and the negotiations "ongoing."
But, hey, guess what? Here's another conflicting report. According to that same CNN article, a source close to the negotiation claimed that we might see a public announcement as early as Monday. A source for The New York Daily News claimed on Friday that the deal will likely happen soon, and would amount to $9 million.
So what are we certain about? A settlement seems to be inevitable, barring a complete breakdown of communication. None of the anonymous sources seem to claim otherwise, and Grossman publicly appears optimistic too.
"Negotiations between Billy and NBC are progressing, and will continue to progress, and hopefully we will reach a conclusion in the near future," he told Page Six in their Friday report. "We were preparing for battle, but today we are preparing for settlement."
Will it happen soon? Monday? In December? We're reaching out to NBC about this, but yeah, don't expect anyone to speak about this on the record until a settlement or whatever is good and ready.
In case you just woke up from cryogenic sleep, The Washington Post recently obtained video of a 2005 meeting between Bush and Republican presidential nominee Donald Trump. This was back when Bush worked on Access Hollywood. The two got to chatting, talking about women in a decidedly ungentlemanly fashion. It was a whole thing.
Where it got really bad was when Trump said he kissed women and grabbed their privates without getting consent. Those actions can, strictly speaking, meet legal definitions of sexual assault (he has denied ever committing sexual assault). Bush seems to have earned little praise from his recorded behavior, especially after egging on actress Arianne Zucker to hug the both of them.
How did NBC respond to this video? They suspended Bush from appearing on-air, so Bush hired Grossman to help negotiate his exit from the company.
"If Billy had been passive or responded 'Shut the f— up' to Trump, Billy would have been out of a job the next day," Grossman told The Hollywood Reporter, defending his client's actions.
[image via Leonard Zhukovsky and Shutterstock]
–
Follow Alberto on Twitter (@Alberto Luperon)
Have a tip we should know? [email protected]