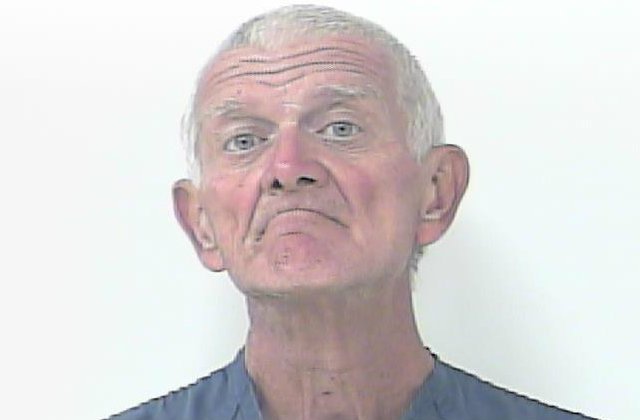 A Florida man is accused of trying to burn down a convenience store. He thought the owner was Muslim, deputies say. Jail records obtained by LawNewz.com shows that 64-year-old Richard Leslie Lloyd remains at St. Lucie County Jail on $30,000 for the Friday incident. He was booked on one count of first-degree Arson of a dwelling with people present.
According to a press release, deputies got a call around 7:40 a.m. about a white man acting suspicious in front of a convenience store. They checked it out. What they allegedly found at the scene? The dumpster had been pushed in front of the doors, its contents lit on fire.
"Upon seeing our deputies, the man put his hands behind his back and said 'take me away,'" Sheriff Ken Mascara said. No one was injured in the incident. The store was closed, and the security shutters were down.
Why try to burn down the store? Lloyd allegedly thought the owner was Muslim, and this ticked him off "due to what they are doing in the Middle East."
"It's unfortunate that Mr. Lloyd made the assumption that the store owners were Arabic when, in fact, they are of Indian descent," Mascara said. "Regardless, we will not tolerate violence based on age, race, color, ancestry, ethnicity, religion, sexual orientation, national origin, homeless status, mental or physical disability."
He said Lloyd's mental health will be evaluated. Meanwhile, the State's Attorney's office will decide whether this will be treated as a hate crime.
Florida law offers protection in ways possibly relevant to this allegation: ethnicity, race, color, ancestry, national origin, and religion.
Lloyd could not be reached for comment.
A man in Kansas City was charged in February after allegedly shooting two Indian men who he thought were undocumented immigrants. One victim died, and a third man, who reportedly tried to intervene, was also seriously injured.
[Mugshot via St. Lucie County Sheriff's Office]
Have a tip we should know? [email protected]