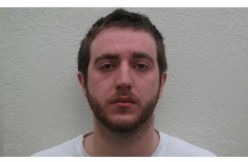 A man has been accused of firing into a bathroom when someone took too long to use it. And to be honest, how many people have contemplated doing just that? Don't pretend you haven't.
Shawn Cummins, 22, was arrested early Sunday in Vernon, Connecticut. He now faces charges for unlawful discharge of a firearm, carrying a firearm while intoxicated, reckless endangerment, threatening, and disorderly conduct, NBC Connecticut reports.
Investigators told NBC he'd been hanging out at a neighbor's apartment when someone was taking way too long in the bathroom. Cummins allegedly handled this problem in the most sensible manner possible: He reportedly pulled out his 9mm handgun, and shot once at the door.
No injuries were reported, but if you think this is the end of the article, you need to step up your game. Cummins allegedly went outside, and fired a second time at the outside wall of the apartment complex.
He was later arrested. It turns out he has a gun permit, police told NBC. Cummins is still in jail pending a $20,000 cash bond, and faced an arraignment scheduled for Monday.
[mugshot via Vernon Police Department]
–
Follow Alberto Luperon on Twitter (@Alberto Luperon)
Have a tip we should know? [email protected]