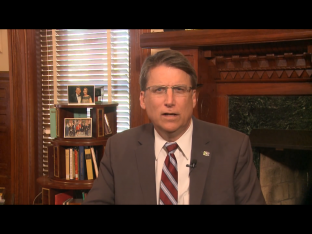 North Carolina Governor Pat McCrory issued a statement on Friday calling for the federal courts and Congress to intercede to stop the Obama administration's public school bathroom directive.
Earlier on Friday, the White House issued a directive to all public school districts in the nation to allow transgender students to use bathrooms matching their gender identity.
Gov. McCrory, already in a high-profile fight with the Obama administration over his state's new bathroom law, fired back in a new statement released on Friday afternoon:
President Obama's administration has instituted federally mandated edicts that affect employees as well as every parent and child within a public school system. This national bathroom, locker room and shower policy for almost every business, university and now K-12 school in our country changes generations of gender etiquette and privacy norms which parents, children and employees have expected in the most personal and private settings of their everyday lives.

Most Americans, including this governor, believe that government is searching for a solution to a problem that has yet to be defined.

Now, both the federal courts and the U.S. Congress must intercede to stop this massive executive branch overreach, which clearly oversteps constitutional authority.

Both non-discrimination and privacy are basic tenets of our great country. States and local governments cannot have a myriad of different laws which cause confusion and inconsistent application.

However, the executive branch of the federal government does not have the authority to be the final arbiter. We all must work together to seek answers and common sense clarification.
Texas Lt. Gov. Dan Patrick on Friday also blasted the new mandate, saying his state will not be "blackmail[ed]" by the White House.
"[This policy] will divide the country not along political lines but along family values and school districts," Patrick said, according to Politico.
As The New York Times notes, the new mandate does not have the force of law but the message is clear: school districts will follow the new provisions or risk losing federal funding.
[image via screengrab]
Have a tip we should know? [email protected]