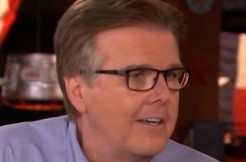 At a meeting with reporters on Friday, the Lieutenant Governor of Texas promised to snub President Obama's directive telling public schools to let transgender students use bathrooms matching their gender identity.
"He says he's going to withhold funding if schools do not follow the policy," Patrick said, according to Politico. "Well, in Texas, he can keep his 30 pieces of silver. We will not yield to blackmail from the president of the United States."
Patrick said Texas gets $10 billion in federal funds in a two-year budget, but more of that goes to programs benefiting the poor, like free breakfast and lunch. So if Texas lost the federal funding, Patrick said it'd be Obama's responsibility.
"It has nothing to do with anything being against a transgender child or a gay child. Nothing to do. We address harassment and bullying in the country and in the state," Patrick said. "This has everything to do with keeping the federal government out of local issues."
The White House released the directive on Friday in letters sent to school districts nationwide.
This is part of an ongoing, national struggle over how transgender people are treated in the United States. Consider North Carolin where lawmakers passed a bill that keeps transgender people in public buildings from using bathrooms matching their gender identity.
[screengrab via MSNBC]
–
Follow Alberto Luperon on Twitter (@Alberto Luperon)
Have a tip we should know? [email protected]