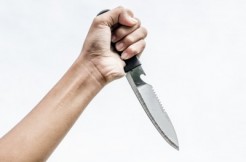 A woman allegedly stabbed a man in Colorado on Wednesday. Her reason, according to the man? He wouldn't have sex with her.
It happened in the very early morning, according to a Colorado Springs Police Department report obtained by The Smoking Gun. The man called 911 to say he'd been stabbed in the shoulder.
"Officers located the male at this location where he reported that he was stabbed by a white female after he refused to have sex with her," the report said.
The man was hospitalized, but the wound wasn't life-threatening. Plot-twist: The cops haven't located the woman. Also, the man hasn't cooperated with police or medical personnel, according to The Smoking Gun.
[image via Graphi/Tect / Shutterstock.com]
–
Follow Alberto Luperon on Twitter (@Alberto Luperon)
Have a tip we should know? [email protected]