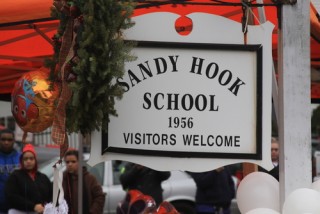 The creator of a Tennessee organization that was meant to raise money for people in Newtown, Connecticut apologized in court on Thursday for taking money intended to assist people in the wake of the 2012 Sandy Hook school shooting. The Associated Press reported that Robert Bruce pleaded guilty to wire fraud, admitting that he took money from the 26.4.26 Foundation for his own use.
The charity organized marathons in the name of the 26 victims of the shooting, with money going to Newtown organizations like a youth sports program. While some of the money did go to the intended recipients, Bruce allegedly pocketed around $28,000. His co-founder, Ryan Graney, noticed suspicious activity when Bruce reportedly couldn't account for $73,000 and odd expenses were being charged to the charity. Bruce failed to show up for a meeting with Graney where they were going to discuss the money issues, and then stopped talking to her.
Bruce, who acknowledged having a substance-abuse problem that resulted in three months at a treatment center, was sorry for his actions. He told the court, "I deeply regret what I did and the impact it had on other people." According to his plea deal, he faces between eight and 18 months in prison.
[Image via Ron Frank/Shutterstock]
Have a tip we should know? [email protected]