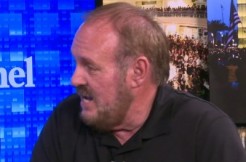 A man in Orlando, Florida said he was arrested on December 11 after a police officer mistook flakes of doughnut glaze for crystal meth.
"And they said, 'We found something in your car that's illegal,'" Daniel Rushing, 64, told The Orlando Sentinel in a Wednesday report. "And I said, 'Not possible.' And they said, 'Yeah, we tested it.' And I said, 'Well, I don't care what you did because there's nothing in the car that's illegal.'"
Rushing said he had been giving a friend a ride home when police pulled him over. The officer said he didn't come to a full stop. Officers searched his car with his permission, but it took way longer than he expected. Cops confronted him with "four little pieces" of Krispy Kreme doughnuts glaze they found in his car.
"First they tried to say it was crack cocaine," he said. "And then they said, 'No, it's not crack, it's methamphetamines.'"
They arrested him. He said they later strip searched him, and wouldn't let him have access to pain medication for a bad back.
An arrest report obtained by the Sentinel says that two tests on the flakes tested positive for "amphetamines." But according to the Sentinel, the Florida Department of Law Enforcement tested and discovered that the flakes were not illegal drugs. The State Attorney dropped the case.
Now Rushing is suing for damages.
The Sentinel reached out to the Orlando Police Department, who did not explain why the initial tests came back positive.
An OPD spokeswoman wrote: "At this time, we have no responsive records. … There is no mechanism in place for easily tracking the number of, or results of, field drug testing."
–
Follow Alberto Luperon on Twitter (@Alberto Luperon)
Have a tip we should know? [email protected]