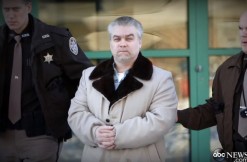 Convicted murderer Steven Avery has not only hired a new attorney, he's blasting his old ones in a handwritten letter to inTouch Weekly.
"Dean and Jerry didn't do no investigation on this case, if they did I would not be in prison, They would have the Suspect if they did there Job!" he wrote. (misspellings his)
He was convicted in 2007 for the murder of photojournalist Teresa Halbach. In the trial, his lawyers Dean Strang and Jerry Buting claimed that investigators at the Manitowoc County Sheriff's Department framed Avery in retaliation over a lawsuit.
Avery now claims Strang and Buting botched his original trial by failing to challenge the prosecution's claims. For example, he says, they apparently could've called forensic experts to examine the lack of blood spatter at his home, and the processing of Halbach's burnt body. Avery also claims his old attorneys failed to prove investigators planted Halbach's car key in his home.
"Lawyers sould [sic] loose [sic] there [sic] license when they don't investigate they [sic] case to proof there [sic] clients and they violating the Ethics, the State sould [sic] take there [sic] license for good," he wrote.
His legal team is now led by Illinois-area attorney Kathleen Zellner.
The Avery case was played out in the 2015 Netflix documentary series Making a Murderer. A new season has been announced.
–
Follow Alberto Luperon on Twitter (@Alberto Luperon)
Have a tip we should know? [email protected]