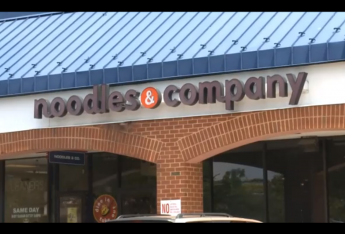 Employees at a popular chain restaurant reportedly mocked a female police officer and refused to prepare her order earlier this week in Alexandria, VA.
The vice president of the International Union Police of Associations (IUPA) Peter Feltham told WUSA9 the incident allegedly occurred at a Noodles and Company restaurant at around 6:30 PM on Monday evening.
WATCH:
Feltham says a female police officer said she was waiting to place her order when the cook approached the counter and allegedly told another employee, "You're going to have to take me off the line, I ain't serving that."
The two employees then allegedly laughed about the comment and made an additional remark that the officer was unable to hear.  Feltman told the station that the officer "was really shaken up" by the incident and immediately left the restaurant to inform her supervisor.
In an interview on Tuesday, Alexandria Police Chief Earl Cook expressed frustration that his officer was treated in such manner.  However, Cook said he met with the restaurant manager on Tuesday afternoon and received an apology for the incident.
Feltham also added that he did not believe the incident in anyway reflects upon the restaurant chain, rather it was simply the actions of individual employees.  He said he received an apology from the manager and a promise to conduct a full investigation into the matter.
Noodles and Company addressed the incident in a statement released earlier this week:
Noodles & Company expects the highest ethical and personal behavior from its team members. We value each of our guests and are committed to treating every one with dignity and respect. We do not tolerate any form of discrimination.

We are working with the appropriate authorities and local police association representatives to get to the bottom of, and resolve this matter as quickly as possible. We have made efforts to reach out to the police officer involved, but have not yet spoken with her. We will continue to look into the situation and will take the appropriate actions at the conclusion of this review.
UPDATE:
Noodles and Company released a statement on Thursday announcing they have fired the two employees involved the incident.
"After completing a thorough investigation into the allegations brought to us by a police officer who visited our Alexandria, VA location, we have concluded the two team members in question acted inappropriately and we immediately terminated their employment," the statement reads.
Have a tip we should know? [email protected]