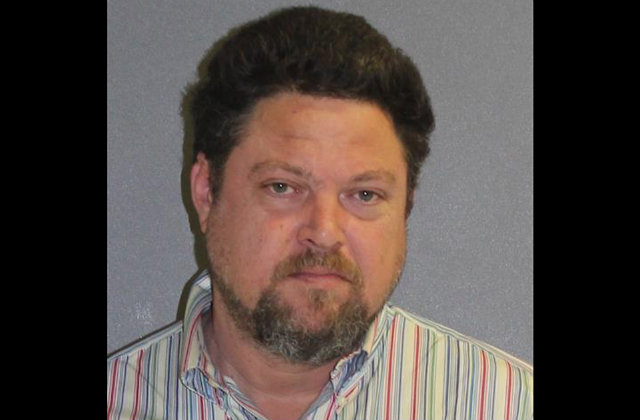 Authorities claim a Florida man cheated people using his veterans "charity." Christopher P. Blake, 46, was booked Friday on a count of organized scheme to defraud, according to Volusia County jail records.
The probe started around the time he took a selfie with local Sheriff Mike Chitwood when they met at a community forum, and he put it up on Facebook, said a statement from law enforcement.
"I think once he posted that selfie, within 24 hours is when my phone lit up with people calling me and saying: 'Hey, let me tell you what this guy did,'" Chitwood said Friday.
The sheriff's office also got complaints from businesses, claiming that Blake stiffed them on signs and banners ostensibly meant for a veterans' fundraiser.
As of Monday, Blake's Facebook page shows that he runs a group called Second Chance Veterans Foundation.
This investigation turned up an alleged pattern in which he falsely misrepresented events, or failed to pay people for services rendered. For example, his organization promised a raffle for a Harley-Davison motorcycle, but when a detective reached out to the bike's purported donor, the man denied ever giving it up. Likewise, the motorcycle was supposedly on display at a Ace Café in Orlando; the business denied ever putting the bike on display for Blake or the Veterans Foundation, the sheriff's office said.
A manager at DeBary Golf and Country club said that Blake held an event involving around 40 people, who each paid Blake $100 to play golf and have lunch. His check to the club for $6,500 bounced, however, authorities claim.
Retired NFL running back Gerald Riggs, who played on the Washington Redskin's 1992 Super Bowl team, also said Blake booked him as a celebrity guest at the golf tournament, but the check for $2,500 ended bouncing because of insufficient funds.
Other allegations include failing to pay rent in six month to the landlord of his office, attempting to trick an undercover detective with the raffle scheme, and cheating a Holiday Inn out of a $956.30 bill although it donated $100 to sponsor the golf tournament.
Blake did not immediately return a Law&Crime request for comment. Jail records show he is out on bond, and it is unclear if he has an attorney in this matter.
[Mugshot via Volusia County Sheriff's Office]
Have a tip we should know? [email protected]