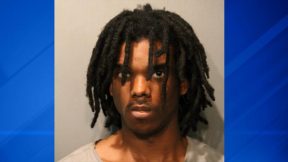 CHICAGO (AP) — A man has been charged in a Chicago shooting captured on video that killed two people, including a toddler, and wounded a pregnant woman, police said Saturday.
Devon Swan, 26, is charged with first-degree murder in the shooting that killed 2-year-old Lavontay White and Lavontay's uncle, 26-year-old Lazaric Collins. They were riding in a car Tuesday when shots were fired. The pregnant woman was driving, and she and her fetus are expected to survive.
Police believe it was a gang attack and that Collins was the intended target. Authorities have said Collins was a gang member with an extensive criminal history. According to the Illinois Department of Corrections, Collins was convicted of felony charges of burglary and armed robbery and was released on parole last June.
Video of the shooting was streamed live on Facebook. In it, the woman and man can be seen listening to rap music before more than a dozen shots ring out. Screaming is heard as the footage becomes jumbled but shows the woman exiting the car and running toward a house. The video goes to black, but the audio continues and people can be heard yelling, "Oh my God," "I can't breathe," and "Please, no, no."
There is no phone listing for Swan in Chicago to pursue comment on his behalf.
Lavontay was one of three children fatally shot within days of each other in Chicago. Also killed were 11-year-old Takiya Holmes and 12-year-old Kanari Gentry-Bowers. An arrest was made and charges filed in Takiya's shooting death.
[image via ABC 7 News, Chicago Police Department]
Have a tip we should know? [email protected]