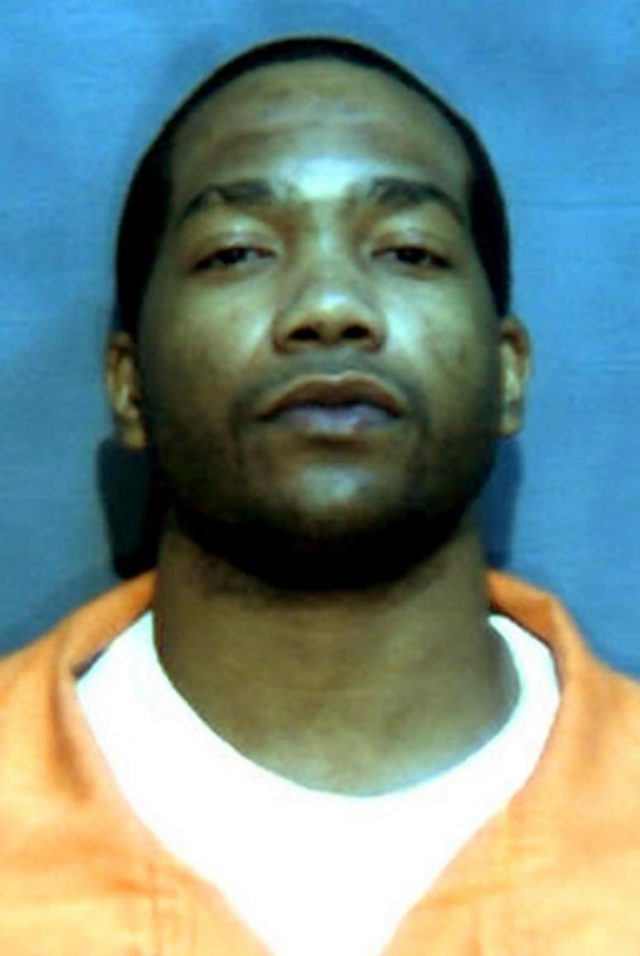 DOTHAN, Ala. (AP) — Kharon Davis has spent nearly 10 years in jail. He's had four sets of attorneys, with two judges on the bench. His co-defendants' cases have wrapped up. Davis has appeared in court for several hearings, and a new prosecutor is assigned.
But Davis has had no trial. There's been no jury, no verdict, no conviction. Police say he killed a man in a drug deal gone wrong, but he hasn't had his day in court. He's charged with capital murder and could face the death penalty. Trial dates have come and gone, and it's now scheduled for September. By then, 10 years and three months will have passed since the crime.
The Constitution guarantees suspects "the right to a speedy trial." Capital cases often take a year or longer to get to trial, but 10 years is rare — experts call it shocking and say it could be unconstitutional. Prisoner advocates and court-watchers say such delays take an exhaustive toll on suspects stuck behind bars and on victims' families, who are robbed of closure that can come from trials.
Davis' mother says her son is innocent but hasn't had the chance to prove it in court, and his health is suffering because of the long stretch in jail.
"It's like they snatched up my child, put him in a cage and threw away the key," Chrycynthia Ward Davis said.
Police say Davis, then 22, shot 29-year-old Pete Reaves inside his apartment on June 9, 2007. Davis and two friends had gone to the apartment complex to buy marijuana from someone else, prosecutors say in court records. But that person wasn't home, so the group went into Reaves' apartment, with an open door, and tried to rob him of money and drugs – that's when Davis shot him, the records say.
Davis and his friends, Kevin McCloud and Lorenzo Stacey, were all charged with capital murder. Stacey went to trial in 2009 and was acquitted; his lawyer suggested Davis pulled the trigger while Stacey was outside, according to local media reports at the time. Two years later, McCloud pleaded guilty to a lesser murder charge, avoiding the death penalty and receiving a 99-year prison sentence.
That leaves Davis. He's held without bond — typical in capital cases.
As Davis waits, so does the family of Pete Reaves.
"I want justice for my parents, for my family," his brother Alvin Reaves said. "Every time it gets set back, it's taken a big toll on them."
___
Lawyers — and Davis has had many — can be the crux of the timetable.
His mother first hired Benjamin Meredith, who represented her in a lawsuit after she was hit by an 18-wheeler.
Years passed, but Judge Kevin Moulton took Meredith off the case completely because his son, a police officer, had investigated the shooting.
Derek Yarbrough was appointed Davis' attorney. As Yarbrough put it, it was basically starting over. Trial was scheduled for 2014, then 2015, then 2016.
Frustrated, Davis stopped talking to Yarbrough and asked that he be dismissed.
Davis' next attorney withdrew after only a few weeks, citing a conflict of interest.
The fourth and current lead lawyer, Tommy Goggans, was appointed in June.
He'll face a new prosecutor. Longtime District Attorney Doug Valeska left office in January. The state assigned prosecutors Kenneth E. Gibbs and Stephanie C. Billingslea this month; they wouldn't comment. Judge Moulton didn't return a telephone message about the case. The case's first judge, Sidney E. Jackson, retired in 2010 and said via phone that he didn't recall too many of its details.
Davis' current lawyer wouldn't talk, either.
___
Today, Kharon Davis spends 23 hours a day in his cell at the county jail. He's been kept in disciplinary segregation since 2014 for fighting and for having contraband — including a sweatshirt, a book, pornography and hair cream. He's allowed visitation only from clergy and his lawyers. He hasn't seen his mother in more than a year.
This segregation is different than solitary confinement; Davis is in a cell with other inmates. Jail commander Capt. Keith Reed told the AP in a phone interview that Davis wouldn't be allowed to speak with a reporter. The AP sent a letter to Davis in jail. He hasn't responded.
Davis has enough write-ups to remain in disciplinary segregation until April 2020, Reed said.
In October, Davis handwrote a request to be returned to the jail's general population, describing segregation as "No phone calls, no visitation, no television, no sunlight nor fresh air." He sent it to his mother, but it hasn't been filed in court.
"Since being confined and forgotten for so long, the defendant has reached a state of stress and depression from missing family visits and voice communication, and had been compelled to taking medications," Davis wrote.
Four miles from the jail, at Chrycynthia Ward Davis' small brick house where she lives with her mother are photos of Kharon Davis as a child, grinning next to a Bible verse: "'I know the plans I have for you,' declares the Lord."
"He will say he is fine to keep me from worrying, but he is mentally torn down," Chrycynthia Ward Davis said.
But Reaves' family says Davis knows her son is alive — something they'll never have for Pete, the fun-loving, peacemaker middle child in a family of seven.
His brother Malcomb Reaves said he understands it's wrong for Davis to wait a decade to see trial, but it's also "wrong for my brother to be dead."
"His momma gets to go to a jail cell to see her son," he said. "My momma's got to go to a graveyard."
[image via Dothan Police Department]
Have a tip we should know? [email protected]