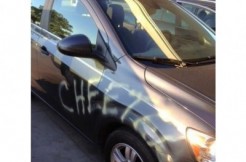 Pro-tip: Consult a dictionary before insulting your ex. A New Jersey man was arrested on May 6 after a Union County sheriff's deputy allegedly saw him spray-paint the word "CHEETER" on the side of his ex's car. Timothy Lee-Trammell, 36, faces charges for vandalism of property and possession of marijuana, according to a sheriff's report obtained by The Smoking Gun.
You can see the picture right here, the letters all capitalized, big and yellow.
After his arrest, Trammell told authorities he'd done it to get back at his former girlfriend, who was working at a nearby store. Authorities said they discovered a single marijuana joint on his person, hence the drug charge. Trammell may also be hit with narcotics possession charges since he also allegedly had Lortab and Suboxone hidden in a cigarette pack. Both painkillers require a doctor's prescription to obtain.
LawNewz.com reviewed the Merriam-Webster Dictionary to get to the bottom of this. It turns out that the word "CHEETER was misspelled. It should've been written, "cheater."
[image via Union County Sheriff's Office]
–
Follow Alberto Luperon on Twitter (@Alberto Luperon)
Have a tip we should know? [email protected]