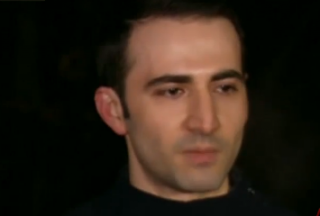 Sgt. Amir Hekmati served his country as a U.S. Marine from 2001 to 2005, earning a variety of medals for his two tours in Iraq. But years later he faced a whole new danger in the Middle East, when a family visit in Tehran turned into more than four years of captivity in an Iranian prison. Hekmati was released in January as part of a prisoner exchange between Iran and the U.S.
Hekmati is now suing the Iranian government for torture, assault and battery, false imprisonment, and intentional infliction of emotional distress. His federal lawsuit, filed with the D.C. District Court, describes how Iranian officials held him in solitary confinement for five months before even charging him, then conducting a 15-minute trial where Hekmati did not get to meet his court-appointed attorney until five minutes beforehand. He was then convicted of "espionage, waging war against God, and corrupting the earth," and initially sentenced to death, before the penalty was changed to 10 years in prison.
The lawsuit alleges that Iran subjected Hekmati to "physical abuse" and "extreme and continuous psychological torture," including sensory deprivation, insults, beatings, electrical shocks, and a cell infested with rats, lice, fleas, and bed bugs. Hekmati claims to be currently suffering from post-traumatic stress disorder as a result of the ordeal.
"Iran's treatment of Amir Hekmati was utterly contemptible," his attorney, Scott D. Gilbert, said in a statement.
Hekmati is seeking economic, emotional, and punitive damages, but has not specified an amount. "Amir can never be adequately compensated for his suffering and the lasting impact that this has had, and will have, on the rest of his life," Gilbert said. "Our intention, with the filing of this lawsuit, is to attempt to provide at least some measure of justice for Amir and his family."
[screengrab via Fox News]
Have a tip we should know? [email protected]