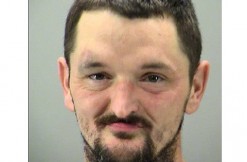 A man was arrested Tuesday in Dayton, Ohio after allegedly having a sex with a van. If this is true, Michael Henson was having a big night.
A witness told cops he was swinging from a stop sign, according to a police report obtained by WDTN. He later pulled down his black gym shorts, and put his junk on the front grill of a parked van. So that continued for a while … then he seemed to pass out in a yard close by.
Henson was charged with public indecency, and according to records, remained in custody at the Montgomery County Jail as of Thursday morning. He is being held on $2,500 bond.
It's unclear if his alleged relationship with the van is serious, or just a casual fling.
[mugshot via Montgomery County Jail]
–
Follow Alberto Luperon on Twitter (@Alberto Luperon)
Have a tip we should know? [email protected]