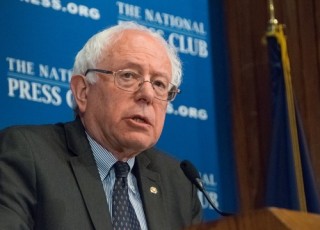 Bernie Sanders supporters got especially fired up when the onetime presidential hopeful burned Hillary Clinton for taking large sums of money from investment banks like Goldman Sachs. But it turns out that when forced by law to disclose his own personal finances, Sanders was not exactly forthright either.
The Center for Public Integrity, a nonprofit investigative journalism organization, has an excellent report today documenting the delay tactics Sanders used to avoid filing details of his own finances. They report:
But when federal law required Sanders to reveal, by mid-May, current details of his personal finances, his campaign lawyer asked the Federal Election Commission for a 45-day extension.

Request granted.

On June 30, Sanders' campaign requested a second 45-day extension, saying the senator had "good cause" to delay because of his "current campaign schedule and officeholder duties."

Again, regulators approved Sanders' punt.
And what do you know? Apparently now, since Bernie is no longer a candidate, he's no longer required by law to file the Public Financial Disclosure Report form. It appears his delay tactics worked. We will never know what was in there. The report notes that both Clinton and Trump filed their personal disclosure forms in May without asking for a delay. Sanders has long bragged he is among the poorest member of the Senate. His latest Senate disclosure which concerns his 2015 assets showed that he held about $50,000 in credit card debt, and as much as $1 million in mortgage debt. The form also showed investments by his wife in mutual funds, a Senate salary, and a small pension.
"It's disappointing that a candidate who spent so much time talking about political reform … and was critical of Hillary Clinton's personal finances, chose not to let us know anything about his own," Richard Skinner from the Sunlight Foundation told the Center for Public Integrity.
Interestingly, you might remember that  there was some controversy regarding Sanders releasing his tax returns. Some accused him of using delay tactics back in April when he said his wife does the taxes and they were a "a little busy" campaigning. Unlike his personal disclosure, he did eventually release those.
Have a tip we should know? [email protected]
Rachel Stockman - Editor in Chief / On Air Host