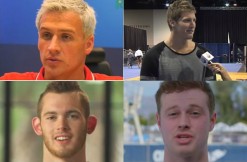 There's been another development in the reported robbery of U.S. Olympic swimmers in Rio de Janiero. A source with Brazilian police told ABC News that one of the alleged robbery victims was seen on surveillance footage breaking down a gas station's restroom door, and "fighting with a security guard." It's unspecified as to who it was, or what kind of "fight" occurred.
#BREAKING Brazil sources: #RyanLochte + 3 swimmers fabricated robbery story. Video shows swimmer "fighting" w/security at gas station @GMA

— Matt Gutman (@mattgutmanABC) August 18, 2016
It's another twist in this story.
Gold medalist Ryan Lochte claimed that he and three other swimmers were robbed at a gas station in Rio by men dressed as police officers, though an IOC spokesman said on Sunday that it didn't happen. Police also said Lochte's account contradicted that of another swimmer, James Feigen. Two others, Gunnar Bentz and Jack Conger, were briefly detained and questioned by Brazilian police on Wednesday before their return flight to the U.S. Lochte is reportedly back the in the States while Feigen remains in Rio.
Police are leaving open the door to charging the four for providing false statements.
[Screengrabs via USA Swimming. Clockwise, starting in the top left: Lochte, Feigen, Conger, then Bentz.]
Update – August 18, 10:57 p.m.: Updated with a tweet from ABC's Matt Gutman.
–
Follow Alberto Luperon on Twitter (@Alberto Luperon)
Have a tip we should know? [email protected]