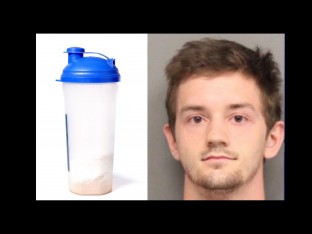 A 21-year-old Nebraska man faces two misdemeanor charges of indecent exposure after pair of incidents over the past two weeks in Lincoln.
Police say they received two calls over the course of two weeks from women that reported seeing a man who appeared to be masturbating in his vehicle, according to a police report obtained by The Smoking Gun.
Last week, a 35-year-old woman called police after spotting a man sitting in a white Mazda at a Shell gas station who she believed was masturbating.  The man reportedly left after seeing the woman start to make the call to police.
A second incident is alleged to have occurred early Monday morning at a Casey's General Store.  Police say a 49-year-old woman called to report seeing a man sitting in a white Mazda who also appeared to be masturbating.
Investigators say both women ultimately provided incredibly detailed descriptions of the person they saw.  The second alleged victim also appears to have obtained the suspect's license plate number.
All of this provided police with enough information to approach the registered owner of the vehicle, Nathan Grimes, 21, at his home earlier this week.
1011now.com reports Grimes admitted to being at Casey's on Monday, but he then told cops the witnesses were mistaken about what they allegedly saw him doing in the vehicle.
Grimes assured the cops he was not masturbating, instead telling them he was simply shaking up a bottle containing his protein mix!
The cops, evidently, did not buy Grimes' story.  He was arrested and taken to Lancaster County Jail on the two misdemeanor charges of indecent exposure.  He is reportedly out on bail, awaiting his next scheduled court appearance on September 20.
[image via Lancaster County Jail/shutterstock]
Have a tip we should know? [email protected]