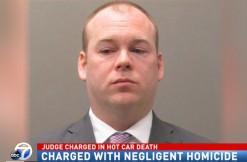 Judge Wade Naramore, who works in the Garland County Circuit Court, is being charged for the hot-car death of his 17-month-old son. He surrendered to police in Hot Springs, Arkansas on Thursday, according to authorities. The charge is negligent homicide, a Class A misdemeanor.
Naramore, 36, apparently admitted to being responsible when police reported to the scene of death on July 24th.
"No, my baby!" he said, according to a police affidavit. He reportedly admitted that his son, Thomas Naramore, had been left in the car for five hours. "I killed my baby!" Investigators determined that the child died from heat exposure, with temperatures that day at almost 100 degrees. Later, in a November talk with cops, Naramore reportedly said he'd been so preoccupied with a case that he forgot to drop his son off at a day-care, and instead left him in the car.
A report by KATV notes that the six month gap between death and arrest is unusually long when compared to similar cases. You can see more of their coverage here:
Not that it matters, considering the circumstances, but Naramore's job in trouble too, with the state Judicial Discipline and Disability Commission looking to suspend him with pay. They expect to sort that out Tuesday, executive director David Sachar told Arkansas Online.
Naramore is out on $5,000 bond. If convicted, he faces up to a year in prison, and a possible $2,500 fine.
[h/t Arkansas Online]
[image via KATV]
–
>> Follow Alberto Luperon on Twitter (@Alberto Luperon)
Have a tip we should know? [email protected]