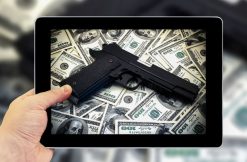 Image that your phone jingles, telling you that you got a new text. You check. It gives you this short, to-the-point message from [email protected]
I've been paid to kill you but wish to spare you. Inform the police or anyone else you die. To be spared, contact [email protected] immediately via email
Don't respond to it, says the Maryland State Police. Delete it. Seriously. They put the warning in all caps and everything.
"Once again, DO NOT RESPOND TO THE TEXT! If you reply to the email it downloads everything from your cell phone. Just delete the text message." they wrote in an update to their Tuesday statement.
Several agencies, including the Baltimore Police Department, are investigating. The BPD also warns not to forward it.
Maryland woman Patti Hittel told WJZ she got one of the texts.
"I thought, well, that is really interesting," she said. "You wonder how people get your number. How they would pick you to send it to."
LawNewz.com followed up with the Maryland State Police for more information, and will update when they respond.
[Screengrab via BoxerX and Shutterstock]
Have a tip we should know? [email protected]