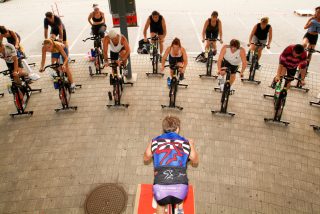 A woman had a little more than she could handle during a spin class, and now she's suing. Kaila Cashman claims that she went to a SoulCycle class for the first time, and ended up hospitalized for a week and has permanent injuries.
Cashman is claiming that the class instructor knew it was her first time, but still increased the difficulty of her workout, adjusting the settings on her bike to make it more strenuous, causing her condition.
According to TMZ, Cashman says she was diagnosed with rhabdomyolysis, a condition where muscle tissue breaks down. That's pretty intense after just one class, and Cashman will have to prove that her condition wasn't caused by something else. Of course, even if she can prove her case, and the class was unreasonably tough, it will be tough to sway a jury when Cashman could have stopped pedaling at any time. On top of that, classes often require participants to sign a release that acknowledges risk of injury, which could make a lawsuit all the more difficult.
This isn't the first time SoulCycle has been sued for a participant's injuries. One woman filed a claim earlier this year saying that she suffered a dislocated ankle after she had a tough time in a class, only for the instructor to pressure her to keep going, saying, "We don't take breaks."
LawNewz.com reached out to SoulCycle for comment, but they have yet to respond.
[Image via Shutterstock]
Have a tip we should know? [email protected]