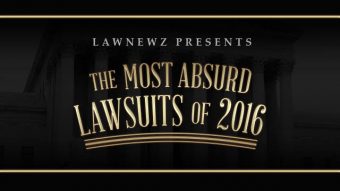 It's been quite a year to cover legal news, and LawNewz.com has been on top of every twist and turn since we launched last January. What a year to be covering legal developments, especially during the 2016 election. As our editors (who are mostly attorneys) worked to analyze and break down the many cases that made the news, we came upon quite a few lawsuits that were just, well, flat out absurd for a variety of reasons. They are definitely worth revisiting if not for your entertainment.  So LawNewz presents to you, LawNewz's List of Most Absurd Lawsuits of 2016. Enjoy! If you think of any that we left off, be sure to let us know in the comments section below.
THE MOST ABSURD LAWSUITS OF 2016:
Jill Stein Sues for Recounts That Can't Possibly Accomplish Anything

Lawyer Tries to Sue Over Negative Online Review

Florida Attorney Sues Over Firm Handshake

Parent Tries to Force R-Ratings for Movies With Smoking in Them

Jared Fogle's Ex-Wife Sues Subway, Claims They Knew About Abuse

"Modern Family" Star Sofia Vergara Was Sued By Her Own Frozen Embryos

Lawyer sues to force Merrick Garland Vote

Customers sue Starbucks claiming their iced beverages were too icy.

Jim Carrey Sued Over Ex's Overdose Death

As we've previously reported, in an effort to force a recount in three states, Stein filed several lawsuits in Michigan, Pennsylvania and Wisconsin. Though she was successful in getting a recount completed in Wisconsin, her legal strategy, was, well, a pretty big failure. After several appeals, the Michigan Supreme Court finally rejected her bid for a recount there saying that "failed to allege that she has been harmed or that her legal rights have been infringed in any way whatsoever." Earlier this month, a federal judge in Pennsylvania gave a blistering order denying Stein's Pennsylvania recount request. And in Wisconsin, she lost her bid to force a hand recount. All in all her series of courtroom smack downs makes her lawsuits fall into our 2016 list.

Oh dear, it's one thing for a small business owner to do this, but really an attorney? A New York attorney filed a libel lawsuit after finding a negative Google review about his practice. Donald J. Tobias saw the review, which simply says, "It was horrible," alongside a one-star rating, posted by a user going by the name "Mia Arce." Of course, as our LawNewz editor pointed out the negative review is protected opinion. Now the attorney is trying to legally force google to remove the bad review. Good luck, Sir.

Here at LawNewz, we cover all sorts of lawsuits. Some have very serious consequences, and others so absurd and frivolous, they are just flat out amusing. But this one might take the cake. A Florida lawyer sued another Florida lawyer over a firm handshake. Now, this was no ordinary firm handshake, it was allegedly a negligent handshake, so firm that it caused poor George H. Vallario, 76, severe pain for years. The scene of the crime happened at a kid's birthday party at a Boca Raton home in 2014. And now the case is going to trial!

A father of two sued the Motion Picture Association of America and others claiming that they should be required to give R ratings to any movie that includes tobacco use. He argued that tobacco in movies promotes harmful use among teens, and the MPAA is negligent because by not using an R rating, it sends the message that tobacco use is appropriate for children under 17. Besides being a ridiculous claim, the lawsuit ignored the fact that ratings like PG and PG-13 also warn parents of potentially inappropriate material. The lawsuit went up in smoke when a federal judge dismissed the complaint in November.

The ex-wife of imprisoned former Subway pitchman Jared Fogel filed a lawsuit earlier this year claiming that the company should be on the hook for failing to inform her about the pitchman's sexual interest in children. While all of those allegations may sound horrible, the complaint lacks any real evidence to support the allegations that Subway's conduct caused Fogel's family to suffer any measurable damages. It is a stretch for the family to essentially argue that it is Subway's fault McLaughlin even married him in the first place. Any claims against Subway for damages based on any alleged failure to report Fogel's conduct would be more appropriately brought by the actual victims of Fogel's predatory behavior. For those reasons, the lawsuit is making this year's most absurd.

Sounds like an interesting legal case, except for the fact that it's not going anywhere. As we previously reported, experts believe that the lawsuit has 'almost 0%' chance. The lawsuit was filed in Louisiana because the state's unique laws that define embryos as people in certain cases. However, that poses some obvious problems for the plaintiffs. "There is certainly an issue as to embryos being in California. They're created in California and held by a California fertility clinic, to the best of my knowledge,"said Alix Rogers, a researcher and attorney specializing in human tissue regulation. "So the extent to which Louisiana law applies to the embryos is tentative at best. It's clearly a last ditch effort that has almost zero percent chance of success.

New Mexico attorney Stephen Michel isn't happy that Senate Republicans have been sitting on the nomination of Merrick Garland to the Supreme Court. So Michel sued, claiming that the decision to not hold confirmation hearings deprived him of his right to have elected officials doing their jobs. Neither the District Court nor the Circuit Court of Appeals in Washington, D.C. bought Michel's argument, so he tried to take his case all the way to the top, filing an emergency application with the U.S. Supreme Court. Chief Justice John Roberts denied the application earlier this month, so Michel is all out of luck. And with Republican President-elect Donald Trump taking office in a few weeks, it looks like Garland's out of luck too.

The 2016 reboot of 1984's famous fast-food slogan "Where's the Beef" took shape in the form of lawsuits against Starbucks. Just as we all started to finally get comfortable with the difference between "Grande" and "Venti," some Starbucks customers sued claiming their iced beverages contained too much ice and too little beverage. The lawsuit, filed in federal court in Chicago, sought class-action status and alleged that Starbucks advertised its iced beverages as containing 24 ounces, when they actually contained only 14 ounces of fluid. The missing ten ounces were just ice; according to the plaintiff, ice is neither a fluid nor a beverage. The judge threw out the case, specifically agreeing with Starbucks' argument that no one ordering an iced tea expects to receive a cup of tea with a side of ice. The ice goes in the drink, which is why it's called an "iced beverage." Another similar lawsuit is still pending in California, which complained that Starbucks' lattes are 25 percent underfilled. Maybe 2017 will bring us some class action suits for misspelling our names on the sides of the cups too.

Burton v. Carrey is an interesting intersection among an opportunistic plaintiff, a rich defendant, and an unusual statute. Actor Jim Carrey is being sued for wrongful by his ex-girlfriend's widower. The woman committed suicide by overdosing on Percocet and Ambien, and according to the lawsuit, the pills came from Carrey. The heart of the lawsuit, though, is a count based on the California Drug Dealer Liability Act, which allows plaintiffs to obtain money damages from drug dealers in a number of scenarios. The only problem is that this statute is clearly intended to target actual drug dealers – not friends who pass pills to one another. The most damning allegation against Carrey is that he used the alias "Arthur King" when obtaining the prescription medications for himself. Still, it's a long walk from "I lied to my own doctor" to "I caused another person's death." This is one that would be fascinating to see play out in the courtroom, but will more likely find its way to a discreet settlement.
Have a tip we should know? [email protected]