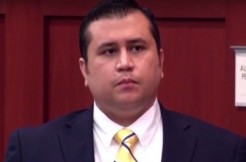 George Zimmerman is now auctioning the gun he says he used to kill 17-year-old Trayvon Martin in 2012.
"I'm a free American," he told WOFL Fox 35 in a phone interview. "I can do what I like with my possessions."
The auction, scheduled to start on Thursday morning, starts at $5,000. Zimmerman told Fox he'd just gotten the weapon back from the Department of Justice.
"I thought it was time to move past the firearm," he said. "And if I sell it, and it sells, I move past it."
On the auction page, Zimmerman wrote that he'd used the gun to stop Martin's "brutal attack," and would use the auction money to undermine #BlackLivesMatter, Florida prosecutor Angela Corey, and "Hillary Clinton's anti-firearm rhetoric." In a speech cited by Fox 35, Clinton said Zimmerman shouldn't have had a gun.
Zimmerman shot and killed Martin on Feb. 26, 2012. Since his 2013 acquittal for second-degree murder and manslaughter, he has done an awful job of staying out of the news, with controversy on Twitter, a couple of domestic violence allegations, and that time at guy allegedly shot at him.
In September, he retweeted a picture of Martin's dead body. His Twitter account was later suspended in December after he allegedly posted nude pictures of an ex-girlfriend in an apparent attempt to embarrass her.
"This is —–. She cheated on me with a dirty Muslim. [Her phone number] She'll sleep with anyone," one tweet read, according to Veronica Wells of Madame Noire, who criticized Twitter for not suspending the account after the September retweet.
[screengrab via WCPO ABC 9]
Updated — May 12, 11:25 a.m. EST: The auction, scheduled for 11 a.m., no longer appears on the site GunBroker.com. The page now reads, "Sorry, but the item you have requested is no longer in the system." LawNewz.com has reached out to the auction site, and is waiting for a response.
Updated — 3:31 p.m. EST: Now he's put it back up again on another site with the same starting bid. A spokesman for the site, United Gun Group, told TMZ he contacted Zimmerman through a friend after the first auction went defunct. He said they'll host the auction as long as the sale is legal.
GunBroker.com has yet to respond to LawNewz.com's request for comment
–
Follow Alberto Luperon on Twitter (@Alberto Luperon)
Have a tip we should know? [email protected]