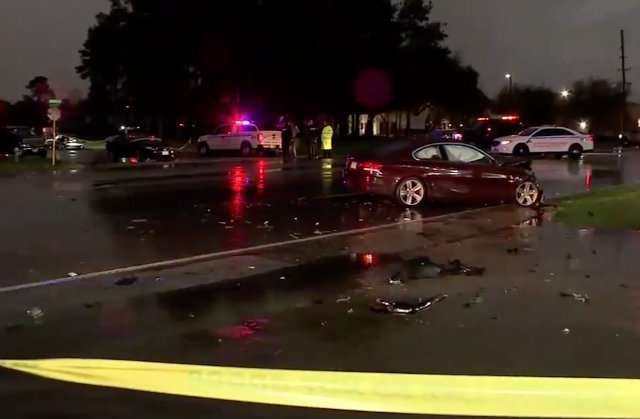 A four car crash in Houston, Texas ended up with one driver dead, but not because of the wreck. He died by suicide, police said. It happened Sunday, according to a KTRK report.
Other people linked to the crash said a vehicle turned in front of traffic on Louetta Road. This sparked a chain reaction: one car was hit at a stop sign, and two others collided as well. One of the other drivers, Ryaan Boyd, said his vehicle was completely wrecked, but none of the drivers reportedly sustained serious injury.
The incident didn't end there, however. The man who allegedly caused the crash later took his own life.
"He [the driver] got out, and walked over to a couple of cars," Harris County Sheriff' Office Deputy Thomas Gilliland told the local news outlet. "He was speaking to people, went back to his vehicle, and walked around the car. He got back into the car and indications are now that he shot himself inside the vehicle."
Boyd said the driver who initiated the accident kept driving for a few feet, and then "We never saw him again after that."
Investigators found him passed away inside the car. Deputies are investigating what may have motivated himself to take his own life.
"Something evidently triggered him to do what he did other than a car accident,' Gilliland said.
The probe is also looking into whether this crash was an accident or done on purpose. The man remains unidentified as officials find and notify his next of kin.
[Screengrab via KTRK]
Have a tip we should know? [email protected]