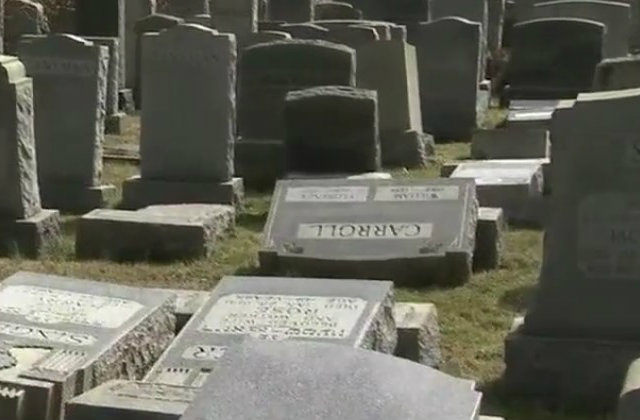 Last week, vandals desecrated over 100 headstones a Jewish cemetery in Missouri. It happened again in Philadelphia.
Aaron Mallin told WPVI he discovered it Sunday when visiting his father's grave at the Mt. Carmel Cemetery. He hopes it isn't motivated by anti-Semitism.
"I'm hoping it was maybe just some drunk kids," he said. "But the fact that there's so many it leads one to think it could have been targeted."
The outlet says the damage is widespread, affecting "dozens, perhaps hundreds" of headstones. Philadelphia police are currently investigating, and they say the vandalism appears to have occurred after dark on Saturday. About 100 headstones were knocked over, they told Law Newz in a statement. Now the Anti-Defamation League is offering a $10,000 reward leading to the arrest and conviction of whoever did this. Also:
"The Fraternal Order of Police Lodge #5 is offering a $3,000 Reward for the arrest of the individual(s) responsible for this crime," Philly police say.
If any one is cuffed for this, they would likely be charged with criminal mischief and institutional vandalism. Pennsylvania does have an "ethnic intimidation" law that covers religion, but cops haven't announced any relevant counts.
"Hate crime charges are determined by the District Attorney's office," a police spokesman told Law Newz. "The PPD is currently investigating this incident as an act of vandalism."
No available information suggests that this is connected to the Missouri incident, though that is still being investigated.
On Monday, 11 Jewish community centers nationwide were evacuated because of threatening phone calls. The JCC Association said a total of 69 have been targeted since Jan. 9.
Update – Feb. 27, 10:28 a.m.: Updated with information from the Philadelphia Police Department.
[Screengrab via WVPI]
Have a tip we should know? [email protected]