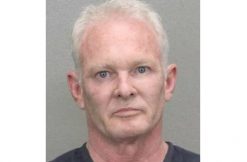 On Friday, former doctor Mark Schreiber pleaded not guilty to mangling a patient's penis during unlicensed plastic surgery in Hialeah.
"He has no business practicing medicine and touching another human being," prosecutor Warren Eth said. "This man epitomizes the danger to the community. He is a flight risk."
Eth said the $1,000 botched operation was for something called a "penis filler." He said that afterward, the patient confronted Schreiber via text message, and got this advice for the mangled wiener: use two popsicle sticks, tie the phallus together, and "wait for the swelling to go down."
Schreiber, 61, is behind held on $250,000, and even if he puts up that cash, he'll need to await trial under house arrest. He faces up to 15 years in prison.
His attorney, Shahnam Yazdani, defended her client in the Miami-Dade courtroom, citing his charity work, and his love for family.
"He gave back to his community," she said.
Schreiber's "medical problems" date back to at least June 1998, when the Florida Department of Health put him on probation after a patient died. The 51-year-old man had been getting a face lift and penis enlargement. Schreiber faced various issues until he lost his medical license in 2006, and later went to prison for illegal surgeries. In April, a former patient was awarded $7.7 million.
[mugshot via Broward County]
–
Follow Alberto on Twitter (@Alberto Luperon)
Have a tip we should know? [email protected]